Office of the press service and information
Ministry of Defense of the Russian Federation
reports that the formations of the Central Military District and the Airborne Forces are completing their advancement to the designated areas as part of a comprehensive surprise readiness check.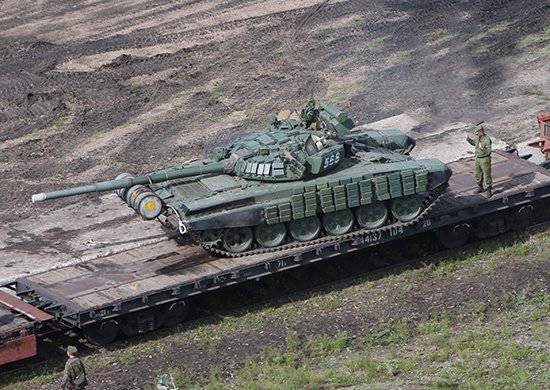 Depending on the remoteness of the areas, the advance of troops is organized as
aviation
and railway transport, and under its own power on standard equipment.
In total, around 65 thousands of servicemen of all combat arms and types of troops of the Russian Armed Forces and military authorities, as well as more 180 aircraft, 60 helicopters and more than 5.5 thousand units of military equipment and weapons participate in the maneuvers.
As part of the test, a unique operation was performed to transfer Mi-24 helicopters aboard the heavy An-124-100 Ruslan transport aircraft from the Tolmachevo air base in the Novosibirsk region to the Koltsovo airfield in the Sverdlovsk region, the press service of the Central Military District reported. In just two flights, 8 combat vehicles were transported, which were partially disassembled.
RIA
"News"
reports that servicemen of the Yekaterinburg connection of radiation, chemical and biological protection of the Central Military District will conduct decontamination, degassing and disinfection of objects on the territory of the Chebarkulsky test site in the Chelyabinsk region. The stations of chemical and radiation reconnaissance, automobile laboratories of express analysis, as well as reconnaissance and sentinel machines of chemical and radiation reconnaissance arrived at the test site.
The press service of the Russian Ministry of Defense notes that the units of the motorized rifle peacekeeping brigade of the Central Military District began to conduct control firing at the Totskoye firing range in the Orenburg region using
tanks
T-72 and BMP-2 infantry fighting vehicles. As part of the firing for monitoring, the first use of unmanned aerial vehicles "Grenade-1".
A comprehensive test of the combat readiness of the Central Military District is conducted from June 21 by order of the Supreme Commander-in-Chief of the Armed Forces of the Russian Federation, Vladimir Putin.