To Kiev
To understand why everything will end with the liberation of Kiev, first let's talk about the theory and practice of Ukraine.
In the theory that Euro-oriented domestic and Ukrainian intellectuals, politicians and citizens have been expounding to us for a long time, Ukraine is a historically European country with all signs of high European civilization, European traditions of respect for human rights and democracy, capable of science and education. .
In addition, it was postulated that Ukrainians as a separate nation have such a pronounced quality as exceptional freedom-loving, which compares favorably with the traditionally more submissive, less hardworking and less inclined to development Great Russians, who forcibly incorporated Ukraine into the Russian Empire and then into the USSR, Ukraine was the most torn from the European vector of development and thus caused heavy damage to the Ukrainian nation.
All this with one or another share of ridicule on our side and one or another heat of pathos on the other was discussed for 23 years.
It should be borne in mind that the ugly, but still funny clowning, which we observed during 23 years, is Ukrainians, strongly restrained, diluted by the Russian South-East, the Russian Crimea and the need to somehow sew the former Ukraine into something whole.
What we have on hand now is a clean, distilled and pure Ukraine. Ukraine, which is no longer held back by the South-East, but fiercely fighting against it, Ukraine, which no longer has Crimea. From Ukraine, now everything has been deleted, at least as far as Russian.
Therefore, now there is that unique moment when we can check the truth of the theory about the civilizational superiority of the Ukrainian project over the Russian one.
We will check, as is customary among people prone to accurate knowledge, subject to education.
That is, practice.
And practice is very obvious.
Recent events, thanks to their exceptional rigidity, rather quickly created chemically pure types that we can consider.
This is the "Putin majority", based on which the current Russian president has maintained his course of governing Russia. Submissive quilted jackets, so to speak.
These are exemplary, chemically pure Ukrainian patriots from Maidan, who brought Yatsenyuk, Turchinov, Poroshenko and Yarosh to power.
This is the loud media figure of the military from the side of Novorossia. This is a military leader representing the Russian World.
And this is a military leader from the side of Free Ukraine.
This is the politician whom the recent events have given Russia.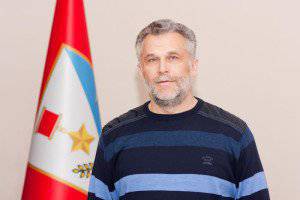 And this is the politician they gave to Ukraine.
This is the Russian foreign minister.
And this is the Minister of Foreign Affairs of Ukraine.
And so in everything. From the very bottom to the very top, where the Russian president is a cadre intelligence officer, Lieutenant Colonel Putin V.V., and in Ukraine - first a pastor of a charismatic sect, and now a worsened copy of Boris Abramovich Berezovsky.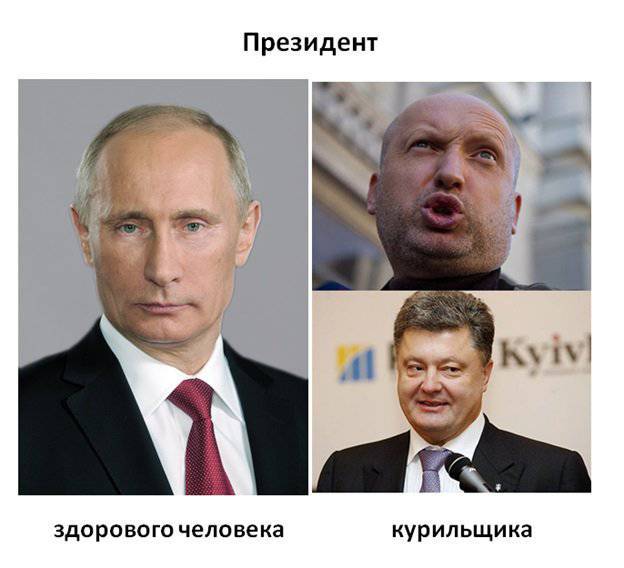 This list of comparisons can be endless.
We even have those who are called the same term "oligarchs" - people who are fundamentally different in quality. Now it is different. We have it in a considerable margin already - security officials, military industrial complex. In fact, government officials.
And they have it Rinat and Benya.
In Ukraine, this word still denotes a privatizer, thinking in schemes not of production processes, not "commodity-money-commodity" even, but throwing and squeezing - "scam-loot-squeezing".
After all these comparisons, the feeling that Ukraine is occupied not so much by fascists (fascism is already one of the many consequences), as by degenerates, does not let go.
There are questions.
And how did this happen?
Where so many degenerates?
How can degenerates cope with normal people and enslave them?
Questions are not idle.
Let's remember. In 90-x, with the fall of the totalitarian communist system, it finally became possible to obtain reliable information that the ancestors of the Aryan-Rusians had founded everything in general. You do not see anything like modern Ukrainian textbooks for school?
And their businessmen do not remind you of anyone from the native 90's period?
What about politicians?
And the party?
And the nationalists?
Yes. This is it. Only here it has resolved or cultivated, and for them it became even worse, more hairy and toothy. It grew and grew.
Ancient ukry, the founders of civilization, also grew. Politicians have grown up, lying without any regard for reality, because TV channels are their private property. The businessmen grew, and together with them their schemes for scamming and squeezing also grew to the scale of the country.
How is it that we have all this extinct, and they divorced?
Russia realized that all this economy is incompatible with its survival and the achievement of its national goals.
That is, in order to survive and develop, Russia had to deal with all of the above. Not reporting, but on the result. And with the oligarchy of the appropriating type, and with abnormal historians, and with irresponsible politicians. In short, with assignment, abnormality, insanity in all areas.
And this Russia is radically different from Ukraine.
Because all of the above mentioned existence and development of the "Project Ukraine" did not harm in any way. On the contrary, all this was a guarantee of its preservation, development and a victorious end.
Reasonable doubt about whether a state can survive with the ideology of insanity, and why it is for itself and the people in general, is resolved simply. For survival and development, Russia must rely on its own resources - both labor, and managerial, and ideological, and economic. And the state of Ukraine is not. "Project Ukraine" survived at the expense of external sources, which set its national goals - to be not Russia. Ukraine and developed in this direction.
It seems to us that this is degradation and fall. For the Ukrainian project elite, this is evolution and national takeoff.
And for this take-off, neither sane leaders, nor science, nor production, nor civil solidarity are needed. To do this, nothing is needed. On the contrary, it requires mass dupes of the population, cretins and criminals in power, the degradation of everything that binds with Russia — production and culture above all. Well, the language, of course. Language is the key to culture, to thinking, to knowledge.
Degenerates in Ukraine could not themselves subjugate normal and full-fledged people. They were helped. They are still being helped.
And the fury with which the degenerates bombed cities by squares, rejoice in the death of women and children, or hypocritically blame these terrible deaths on the victims themselves - this is the joy of the degenerates who got the chance to deal with the full-fledged ones.
This delight is the delight of a weak coward, who suddenly got the opportunity to hit someone who is braver and stronger with impunity. Coward and weakling from such entertainment for the ears not to pull.
Therefore, there will be no truce.
The problem is that all this is Ukraine, which is not Russia. After all, it was intended as well? And this means that the elite, the activists, lawyers, economists ... but in general everything Ukraine can rely on in its current state is a product of the evolution of the "Project Ukraine". That is, in our opinion, degradation.
Previously, for us, the word "Ukrainian" meant a special Russian. Such as Leonid Bykov, for example.
Now, after these 23 years of downgrading experiments, the word "Ukrainian" has been privatized by the most successful degenerates. And the real Ukraine began to call the territory where degenerates seized power over people as firmly as possible. (And that is why, by the way, nothing will come of them in terms of war. To solve such a task as a military and economic struggle with Russia, non-degenerative elites should be in power. That is, not Ukrainian. And they will not. And there will not be . And nowhere to take.)
What is happening in Ukraine is not just a military genocide. This is already a couple of decades - a violation of the fundamental human right to development.
This is the removal of the orcs.
They are enthusiastically beating out howitzers, watching videos with dying people on YouTube. They think that in any case, the winner. Russia will enter Novorossia - well: sanctions, debt relief, legitimization of its regime, help from the West. It will not come in - it will be possible for the Russians to be cleared out, in order to "get their hands on their party."
No.
None of this will come true.
Ukraine covers-and soon will cover-social hell. Tariffs, prices, pensions, salaries ... Kindergartens, polyclinics, maternity hospitals and cemeteries. Because the Ukrainian elite. Because it is not Russia. Ukraine is waiting for horror. And in this horror the junta will not succeed by any means, including the Russian invasion, to create or imitate itself legitimacy.
This is the end. The end is irrevocable and vile. Inescapable.
Because none of the Russians do not need a goblin reserve, where goblins are made of people. From the Russian people.
Therefore, everything will end in Kiev.
Not in Lugansk, not in Donetsk. And not even in Slavyansk.
Kiev will again become the mother of Russian cities.
Ukraine will be returned the right to produce great people.
Great diplomats, scientists, writers and directors.
Ukraine, the real, our Ukraine, the Ukraine, which is Russia, will return the right to full value.
This means that everything will end in Kiev.
In Kiev.
This is already someone understood.
PS
You can also compare two representatives at the international level - our Churkin and their psaki.
There is such a version. That America, which was torn to domination by the method of self-modernization, has long gone. For several decades now, the United States has been a parasite of the global economy, generating a dollar and securing a market for itself with violence. Accordingly, like any complex system, the United States began to adapt to habitat conditions. And parasites, as part of their parasitic evolution, lose all their higher functions.