President, people are waiting for decisive action from you!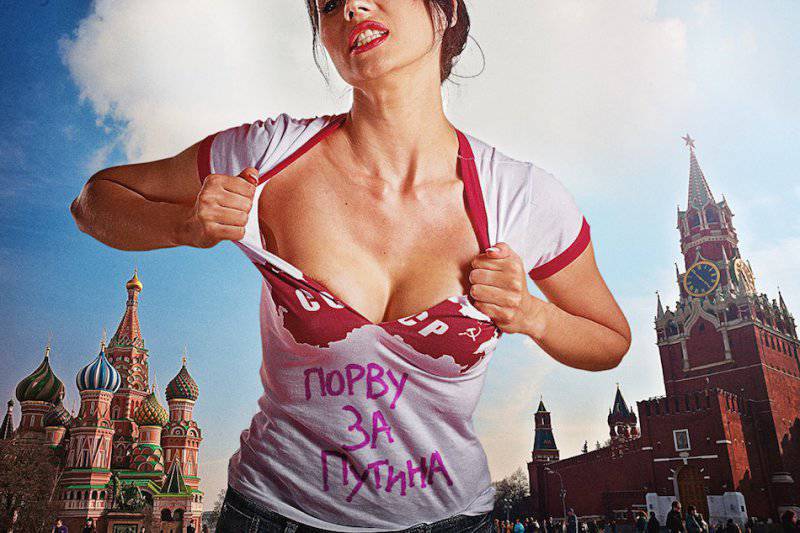 Mr. President, in one of the interviews you said that you would like to see how the army of Ukraine dares to shoot at his people and doubt that this is possible. Turn on the TV, on any channel you will see how the Ukrainian army shoots its people with the help of heavy
weapons
, artillery and
aviation
.
You promised to protect the Russian population of Ukraine if blood is shed. The blood of the Russian people is already flowing like water! Is your promise just a declaration? Where is our valiant army? Or is she only able to conduct exercises at the border and saber-gun? Why did you get the consent of the State Duma to use the army outside of Russia? To laugh the whole world? Or to scare the fascists? So they are not afraid of this saber-rattling! And soon the whole world will laugh at us!
Your inaction every day gives the fascists more confidence in their impunity. It is impunity that gives rise to crime and takes the lives of our compatriots every day. The people of the South-East announced the creation of republics and their independence, following the example of the Crimea, Russia is silent ... The republics have created an independent state, Novorossia, and have twice turned to Russia for help and accepting them into Russia, but Russia is again silent - no matter how came out!
You did not even give them diplomatic assistance and support. Little South Ossetia was more manly than GREAT RUSSIA? But you recognized the pseudo-president appointed by the junta! And not even the junta, and Obama! You do whatever you want, but do not render assistance to the New Russia! Afraid that the West would suspect you of helping New Russia? So they unanimously accuse you and Russia already even of intervention! And why should we be afraid now, when we are still accused of something that we did not do?
If we really help our brothers, they will not think of any more, and they will not blame them for big sins. You say the right words, but these are just words! And about the genocide of the people of Novorossia - silent! And the junta with your silence received a blank check on the destruction of our brothers in Novorossia. Your declarations are an empty sound that no one is afraid of.
The junta began to destroy the population with small arms - Russia is silent. So you can continue. The Nazis began to use mortars - Russia is silent. So, you can still continue! They began to use howitzers and helicopters - Russia is silent. Well, you can step up your efforts to destroy the people of New Russia! The Nazis began to apply
Tanks
, "Grads" and aviation around the cities - Russia is silent again! Is Russia AFRAID ?! MAY NOT BE CIRCULATED WITH HER! Then they used forbidden weapons - phosphorus bombs! Russia AGAIN cowardly silent! SHAME! And now, the Nazis violated OUR border (LIVED!), Encroached on our territory, defeated the embassy, ​​fired upon our land! You can not reckon with Russia! She will continue to silently watch how the Bandera executioners kill Russian people! How fascists smash Russian institutions, arbitrarily grab our frontier land, shell our border guards, ride armored vehicles across our land and insult our leaders all over the world! SHE IS SCARED!!!
They insulted publicly, not Putin, but the president of a world power! They spat in the face of the president and slapped Russia! Well, again, we dawn and cowardly keep silent? Or maybe it's you, Mr. Putin, afraid? Maybe you are a coward? But Russia is not you, Russia is the people, and the people cannot be afraid of executioners! Russia has a great
story
, great victories and great ancestors! And it is not good for us to fear our enemies, whatever they may be!
Or maybe Russia really is only a regional power?
Adopt a ready-made and prosperous republic of Crimea — calmer and safer! And to support the people of Novorossia fighting for their lives and to support them in the military conditions - for this, courage is necessary! Your courage, Mr. President! The people have given you confidence and empowered! It is in Novorossia that the fate of Russia is being decided. And its fate will depend on the outcome of this battle: to be a war in the land of Russia, or not.
If we help Novorossiya, then she will cope with the junta herself, and the war will not come to our land. If we allow to destroy Novorossia, then in half a year the war will come to our land, and the Crimea will be the first victim! War can not be avoided, and the whole question is where we will have to fight - on our own land or on the land of New Russia! And this question you can solve in just one week! And there will be no more dead women and children!
If you are afraid to defend the people being destroyed officially, then do it just as America and Europe do (which help the junta with their warriors and weapons) - unofficially. Or is it too you can not? Then is it not better to appoint Dmitry Medvedev as supreme commander of the Russian Armed Forces - he is not a seasoned warrior like you, but he is a decisive politician and a truly courageous defender and man! He proved this in 2008 in South Ossetia. In just a few days I solved the whole problem with the Georgian aggressors with low losses and meager costs. And now, every new day of "non-intervention" not only takes tens and hundreds of lives, but also increases the future price that Russia will have to pay for inaction! For your inaction !!! I'm almost 60 years old, but I am ready, if necessary, to take up arms. Announce mobilization, and thousands of people will come to the military registration and enlistment offices and go to protect our brothers! I will come first ...
What are you waiting for and why are you drawing time? Do you want the junta to destroy Novorossia and all its defenders? Their blood will be on your conscience! If you allow the destruction of Novorossia, the Maidan will come to us in Moscow. And the civil war is already burning in Russia! Together with the civil war, external intervention will come ... And then the existence of the Russian state itself will be in question! Time does not work for us !!!
All of Russia is already at a loss: waiting for what its leader will do. When will he start acting and not say the right phrases? And the leader also keeps silent ... This is not even funny. But neither to keep silent, nor to sit behind the Kremlin wall will fail! The war is already at our doorstep!
Where are your conscience and courage, Mr. Putin? Do you sleep well? To sleep, you need to have a clear conscience. And your conscience "defender of the Russian population" is calm?
You have done a lot for our country, this is indisputable. And all the Russian people, quite recently, were proud of their president. But now you disgrace Russia! I'm ashamed for you! You are not interested in me, but there are millions of people like me!
I wish you a clear conscience!