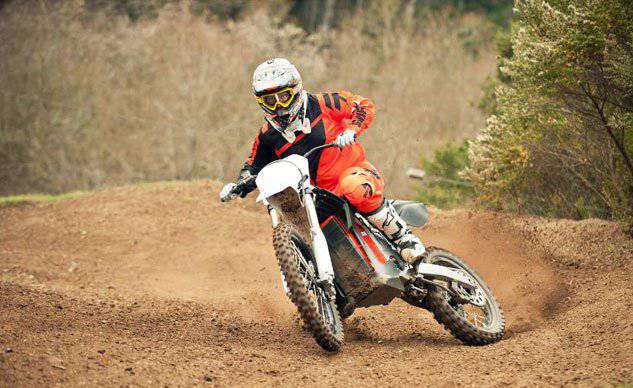 The Pentagon has issued a contract to Logos Technologies for the development and manufacture of a prototype hybrid electric noiseless motorcycle.
According to the company, the US Department of Defense Advanced Research and Development Department (DARPA) issued a SBIR grant (innovative research for small enterprises) to develop a silent system, although a company representative said that its value could not be announced under the terms of the competition.
Logos Technologies will manufacture a multi-fuel hybrid electric powerplant, the company also collaborates with the motorcycle manufacturer BRD, which will provide its BRD Redshift MX motorcycle as a platform.
A company spokesman said that Redshift MX is a high-end off-road cross-country motorcycle. "Significant modifications will be required, but our team is pleased with such a mature, efficient platform as a point of reference, this will speed up the development cycle that it would not be possible otherwise."
A statement from Logos says that "for the first time, two-wheel drive and multi-fuel hybrid capabilities will be integrated into a full-size off-road motorcycle."
Although the representative of the company could not name the development time, he noted that at the beginning of the work the team would demonstrate "a hybrid electric system corresponding to the power of an off-road motorcycle, and uses these results to develop a draft solution. This will allow in the course of further work to develop the full-fledged prototype properly. "
In order for the bike to be considered noiseless, the DARPA control must still define specific noise requirements.
"DARPA indicated that during normal operation — that is, when the engine burns fuel — the motorcycle should produce no more than 75 dB at a distance of 7 meters, which is roughly equivalent to the sound of a phone dialing right in the listener's ear," the spokesman explained.
"A significant reduction in the acoustic signature is possible, especially when driving on batteries in silent mode, when the loudest sound of a motorcycle is the rustling of its wheels on the ground."
He also added that the main problem is volume. "There will be some weight gain, but off-road motorcycles do not have such dimensions as their street counterparts and therefore maximum miniaturization and integration will be very important."
However, the representative noted that from a technical point of view, the company does not view this work as a high-risk program, as Logos had previously demonstrated a hybrid system based on a multi-fuel generator set on another platform and is currently working on an efficient electric motorcycle on the BRD platform. Redshift
"After the manufacture and display of the prototype, we plan to explore both commercial and military versions. As for military use, here we are working with our sponsors from DARPA to determine the next optimal steps, "said a company representative.
Wade Palome, Head of Prospective Projects at Logos Technologies, said: "A light, reliable, silent single-track vehicle with all-wheel drive and a large power reserve could support successful operations of the expeditionary and special forces of the USA in extreme areas and in difficult environmental conditions."
"With the growing need for actions by small units far from logistical support, the military can increasingly rely on adaptable, efficient technologies to which this hybrid-electric motorcycle belongs."
The company added that in addition to improving efficiency and mobility, which is the goal of this project, the hybrid-electric approach will also make it possible to move for a long time almost silently only on an electric propulsor, and also to generate additional electrical energy for use by personnel in the field.
Materials used:
Land Warfare International June / July 2014
http://www.logos-technologies.com
http://www.darpa.mil