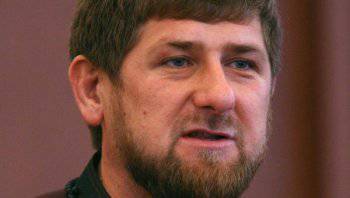 22 June in an overpass on Kadyrov Avenue in Grozny, an unknown person shot 39-year-old police officer A. Dopayev, reports RIA
"News"
. During the patrol, the policeman stopped a suspicious man for examination. While the police officer was examining the bag, a man came behind his back and shot him in the back of the head with a pistol. Stealing staff
weapon
, he fled the scene of the crime.
"The Investigation Department opened a criminal case under three articles -" encroachment on the life of a law enforcement officer "," theft of weapons "and" illegal arms trafficking ", said a representative of the Investigations Department of the Investigations Committee on Chechnya.
The head of Chechnya, Ramzan Kadyrov, promised 10 million rubles for information about the criminal.
"There have been no such incidents in the Chechen Republic for a long time. I declare with all responsibility that all law enforcement officers and residents of the republic will conduct a search for the killer. Raising a hand on our comrade will not escape punishment. It will be the most stringent! I made a decision to allocate a reward in the amount of 10 million rubles to the one who calls the killer and indicates his location. We will not allow anyone to shed the blood of police officers and residents of the republic with impunity, "he wrote in his Instagram.
Lifenews
reports that recordings from surveillance cameras managed to identify the killer. It turned out to be Magomed Magomadov, who arrived in Grozny with Max Usmanov. Both are natives of the village of Alkhan-Yurt, Urus-Martan District.
Today, representatives of the republican Interior Ministry reported that at the entrance to the village of Gekhi, Urus-Martan district, police stopped a VAZ-2110 (taxi) car, in which there were two passengers. On the demand to produce documents one of the men opened fire on the police officers and was eliminated by response fire. The second passenger tried to escape, but when he realized that he would not succeed, he activated an improvised explosive device.
"At present, the identities of the criminals are being established, as well as their involvement in the murder of a police officer committed on June 22 in the Leninsky district of Grozny," the department said.
According to
Lifenews
, one of those killed was previously identified as Magomed Magomadov, who killed the PPS officer.