Near Lugansk destroyed column of Ukrainian military armored vehicles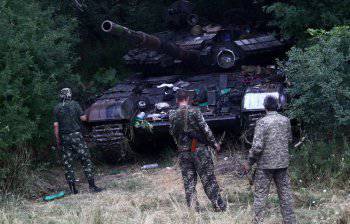 On Sunday, militia fighters destroyed a column of armored vehicles of the Ukrainian military near Lugansk, reports
ITAR-TASS
, with reference to the press service of the Luhansk People's Republic.
The battle between the militias and the Ukrainian security forces took place in the area of ​​the village of Melovoe, representatives of the LPR specified. During the clash, the Ukrainian military "lost two
tank
". The dead and wounded are not reported.
Earlier, the press service of the LC said that the troops of the National Guard of Ukraine had violated the declared truce by firing Ananievka village, near the Krasny Partizan frontier point controlled by the militia, with mortars "Cornflower".
In addition, the shelling of the city of Happiness resumed in the Luhansk region.
"Around 22: 45 local time (23: 45 MSK), shelling of the Happiness region, the satellite city of Luhansk, began. Shooting is conducted from heavy guns, "the Novorossia agency reported.
According to eyewitnesses, the sounds of shelling could be heard even in the center of Lugansk. Ukrainian artillery redeployed to positions closer to the city.