Probably everyone saw this printout of the predictions of the famous prophetess Vanga. It took only 6-7 years, and we can now evaluate their accuracy.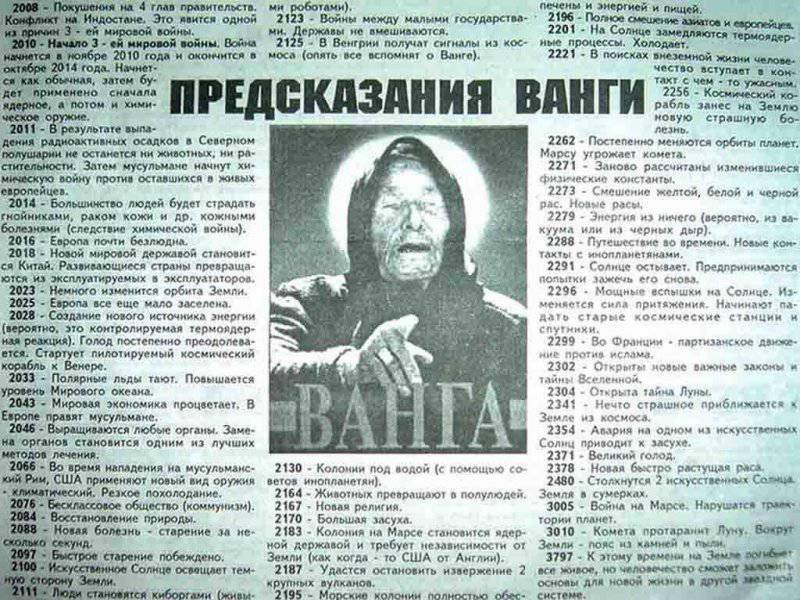 Start over.
2008 - Attempt on four heads of government. The conflict in Hindustan. This will be one of the causes of World War 3.
It did not come true, there was no attempt on the 4-s heads of government, and there was no conflict in Hindustan.
2010 is the start of 3 World War II. The war will begin in November 2010 and end in October 2014. It will start as usual, then the nuclear and then the chemical will be applied first. weapon.
Although it was predicted, the war did not start, and, of course, nobody used nuclear and chemical weapons.
2011 - as a result of radioactive fallout in the Northern Hemisphere, neither animals nor vegetation will remain. Then the Muslims will start a chemical war against the surviving Europeans.
Since the war did not start, this prediction did not come true.
2014 - most people will suffer from ulcers, skin cancer and other skin diseases (a consequence of chemical warfare).
Thank God and glory to Allah - carried, we are not ill!
Further predictions Vanga on this piece of paper - the future, and we will not analyze it.
But the standard phrase about Vanga: "The Bulgarian soothsayer Vanga repeatedly assured the whole world that her predictions come true". But after all, no prediction has come true.
So who wrote these "predictions"? Probably not Wang. Then the question arises: "Why did they write what Wang did not say"? The answer is only one. We, the Russians (the text in Russian), tried to impress on the inevitability of a nuclear-chemical war. They wanted to drive us into complete pessimism, apathy, unwillingness to work, create and bear children, and as a result, revelry, debauchery, alcoholism and drug addiction, because the Northern Hemisphere must die out. We wanted to be sent to the path of extinction.
Fortunately, the psyche of people with great difficulty is subject to external negative influence. And therefore, despite all the hardships of nature, social disasters and attempts of the special services to influence us, humanity will live and create a new world of the future.