In Rostov appeared the street Guard Colonel Budanov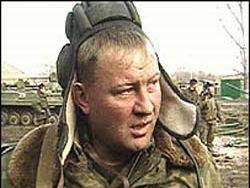 The activists of the "Russian image" movement re-glued all address signs on Socialist Street of Rostov, replacing them with the inscriptions "Guards Street of Colonel Budanov".
With this action, the youth honored the memory of the Order of Courage Yuri Budanov, who was tragically deceased, under the cover of night on the eve of 9 days from the day of his death. For several hours, all the signs on the buildings with the name of Socialist Street were covered with new signs. Stickers with the inscription "Guards Colonel Budanov Street" appeared on the trade pavilions, schools and even on the sign of the military registration and enlistment office. "Thus, we honored the memory of a soldier and a hero and celebrated 9 days from the date of death," said one of the protesters. The appearance of a new street in the city was discovered only in the morning, according to Life News. It is not yet known whether the organizers and participants will have to bear criminal or administrative responsibility for this action.
Ctrl Enter
Noticed a mistake Highlight text and press. Ctrl + Enter