Sudden check of the combat readiness of the troops of the Central District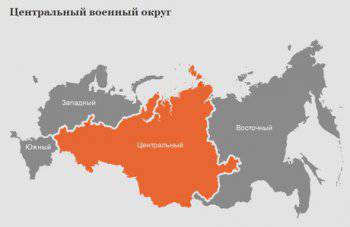 This morning in the Central District announced a surprise check of combat readiness, which is conducted by a complex commission headed by General Valery Gerasimov, Chief of the General Staff of the Russian Armed Forces, reports
RBC
.
Colonel Yaroslav Roshchupkin, commander of the Central Military District troops, reported that in the territory of Western Siberia and the Urals, motorized rifle and anti-aircraft missile forces were raised in alarm.
"Now they are making multi-kilometer marches on automotive vehicles and by rail to the areas of destination," Roschupkin said.
According to him, the servicemen are sent to unfamiliar training grounds, where many will have to act for the first time.
"The main purpose of the events is a comprehensive check of the combat training of the troops, the readiness of the formations and military units in the shortest possible time to accomplish the tasks assigned, the assessment of the level of training and coordination of the subunits," Roschupkin emphasized.
The sudden inspection began just a few weeks after the completion of large-scale maneuvers of the Russian military near the Russian-Ukrainian border.
That night, an operational meeting of the Russian Security Council, under the leadership of Russian President Vladimir Putin, was held in Moscow to discuss the situation in eastern Ukraine. Data on the outcome of the meeting has not yet appeared.
On the eve, NATO officials said that Russian troops were again being forced to the Ukrainian border. Alliance Secretary General Anders Fogh Rasmussen noted that we are talking about several thousand servicemen. Later, this information was refuted by Dmitry Peskov, but sources
RBC
in the Ministry of Defense, as well as politicians and experts said that the tightening of troops to the border really took place.