Summary from Strelkov Igor Ivanovich marked URGENTLY (full version)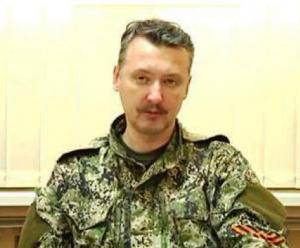 "During the night of June 18-19, the enemy carried out a massive transfer of troops from the area of ​​the village of Dolgenkoye, where his base and camp is located, to the area of ​​the city of Krasny Liman, in all, more than 130 units of various military equipment were deployed, including about 20
tanks
and 40 BMD, infantry fighting vehicles and armored personnel carriers. The militia sabotage group succeeded, by detonating a landmine, to incapacitate one APC in the convoy. Also during the night, the militia fired at an enemy stronghold in the area of ​​"Feed".
Early in the morning, June 19, 2014, the enemy, with the support of two SU-25 attack aircraft, a self-propelled howitzer division, Grad MLRS batteries and several mortar batteries, delivered a massive blow by tanks and motorized infantry to positions of the Krasnolimansk militia detachment in the area of ​​Yampol. The first attack was repelled, one enemy tank was shot down. At around 11 a.m., the enemy resumed the attack and, despite the losses, broke through the front. During the battle, the enemy lost four BMDs and a large amount of manpower, but he managed, using colossal superiority in armaments, to capture the village of Yampol, the village of Zakhotnoye and the bridge across the Seversky Donets river. Krasnolimansk militia detachment suffered heavy casualties in people and
weapons
. And he was scattered who came to his aid, the unit from the city of Slavyansk also could not stop the superior enemy forces, but they took an unequal battle in the village of Krivaya Luka.
As of 18.00, the battle continued, the militia were trying to force their way through the enemy's positions towards Slavyansk.
Simultaneously with the attack on Yampol, large forces of the enemy's tanks and motorized infantry attacked the city of Seversk, where militia units subordinated to Alexei Mozgovoy (Lisichansk battalion) fought. The fight continues.
Trying to help the detachments fighting in the north, the Kramatorsk militia company launched an attack on enemy positions near the village of Markov (east of Kramatorsk). In the course of the battle for the checkpoint, it was possible to knock out one BMP and one BTR of the enemy. One militiaman was slightly injured. On the positions around Slavyansk and the settlement Semenivka there were no changes.
In the morning, the militia unit inflicted mortar strikes on Karachun Mountain and enemy positions in Vostochny, the enemy fired Semenovka from the tank in response, and in 18.00 struck the howitzers in the center of Slavyansk. There are numerous destructions of buildings.
Thus, we can state the fact that the Ukrainian military completed the tasks set by Poroshenko for the final encirclement of the militia in the city of Slavyansk. Despite the courage and resilience of the militias to withstand massive attacks by artillery tanks and
aviation
the enemy, who also has significant superiority in manpower, they are not able to open areas.
The militia and the people of the Donetsk People's Republic call on the leadership of the Russian Federation to provide urgent assistance to the New Russia in order to prevent further genocide of the Russian population. "