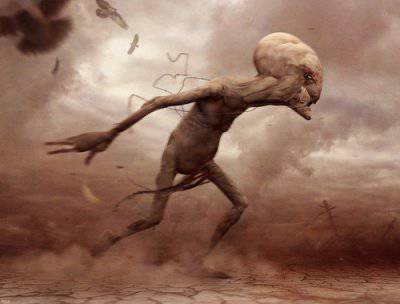 If, dear reader, you have ever been interested in the question: how absolutely mentally normal people (we don't speak here about sick people) without using the ancient African witchcraft method can become a zombie, I offer an unexpected and simple answer. It turns out that it is very simple: you just have to regularly watch and listen to the "absolutely independent" Ukrainian media, especially those marked with the flag "For one country"! The technique is patented overseas, the result is GUARANTEED and STUNNING! Regularly accepting these same media (more precisely, SMRAD, I mean the Mass Destructive Agitation and Disinformation) at least one air hour three times a day, you will very quickly and firmly believe that:
1. Putin wants to capture all and make slaves.
2. Because of Russia, the Second (!) World War will now begin.
3. It is better to live under the Americans than under the Russians, because the Ukrainians are free people.
4. Russian TV is lying all. Youtube - production and forgery of the Putin regime.
5.All pro-Russian rallies are a group of the same actors, 10-50 people who are brought by plane from place to place, and if these creatures were shot (burned with a Molotov cocktail, hung on the gillyakas), everything will be fine.
6. The inhabitants of the South-East - morons, downs and slaves, in the best case - quilted jackets and Colorado
7. The Russian military in the Crimea beat the Ukrainian military (!) And force everyone to go to rallies at gunpoint.
8. Putin raises gasoline prices in Ukraine.
9. The new government - the people, the oligarchs - temporarily.
10. If it were not for Russia, Ukraine would already be Switzerland.
11.The European Union will now fix life and take to itself. Only Russia, which has bought all and does not let go of Ukraine because it wants to make them slaves, is hindering.
12. Russian tryndets, because Ukraine will no longer contain Russia (buy gas).
13. In Russia, for dissent, they are immediately imprisoned or taken to the forest (this is known from relatives and friends)
14. On television in Russia - only Kiselev, who is watched from morning to evening. Hardly a prison.
15. In Russia, censorship is everywhere. Just a bit - just a prison!
16. Based on the foregoing, Russians Ukrainians terribly envy.
In addition to unconditional faith in the above-mentioned "commandments", there are additional signs of zombism. So, a real zombie to the question why Yanukovych lacked 15 billion dollars, the new power 35, and now 75, without batting an eye, will answer, that it was Yanyk who stole so much while fleeing to Russia. To the question: "And nothing, that" In contact "is the Russian social network?" Svidomo evroorietirovaniy ukrofil also answer immediately something like this: "Russia would be happy, but can not turn off the" V Kontakte "in Ukraine, because there is freedom now!"
Explaining the recent events in Ukraine for a true zombie is not the slightest difficulty. With scornful regret, he can explain to a dull opponent that "Yanukovych was Putin's agent and wanted to destroy Ukraine, but Putin's agents from the right sector overthrew him, wishing to destroy Ukraine, and then Putin's oligarchs and corrupt officials who wanted to destroy Ukraine came to power. Putin's agents in the South-East have risen to this, wishing to destroy Ukraine, but Putin's agent Yulia Tymoshenko, who wishes to destroy Ukraine, has prevented them! " And, then, the conclusion in a sterilely washed brain also appears instantly: "Putin and his agents are to blame for everything!" Also, absolutely by default, those wishing to destroy Ukraine by default!
When you try to argue or immediately (in far-gone cases, that is, with "advanced" zombies) you can hear: "I don't want to talk to you anymore, because I hate Russia !!!" And then the situation will become unpredictable ...
How to become a real zombie?
The above information is collected on the basis of the analysis of social networks, personal communication with zombie-infected people and watching TV programs of Julio Trepacho, ukrTV, the leading brain warmer of the destrukt-prodktingovoy company Psaking International UE, and kindly provided for publication.
Postscript: Tale - a lie? Not even a hint ...