National Guard of Ukraine: For Kiev, we are cannon fodder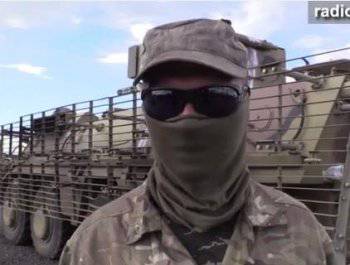 A video message appeared on the network from a fighter of the National Guard of Ukraine to President Petro Poroshenko with a call to stop the military operation in the east of the country, reports
"RT in Russian"
. According to the man, otherwise "everyone will turn around in the opposite direction and go to Kiev."
"Comrade Poroshenko, please put things in order if you are a real president and if you are a man of your word," the National Guardia's fighter addressed the president.
According to him, now the guards are used as cannon fodder. Incompetent command makes mistakes, as a result of which many soldiers are killed and injured.
"We take two steps forward and three steps back," the soldier says, noting that positions already taken are left instead of holding them and moving forward.
According to the man, the force action is deliberately delayed. At the same time, the state practically does not provide military personnel.
"For 15 days of staying here from the state, we did not receive even bread. Even the water is not constantly delivered to us, "the National Guard fighter said.
According to him, the military has to buy equipment themselves. Problems in the supply confirmed and the soldiers of the 12-th battalion of the territorial defense of Kiev, who said that they were sent to fight, without providing protection.
"There are only four body armor on the battalion, there is not even a radio, old helmets. They promised us that in a day they would give everyone a lift, but they did not fulfill the promise. We landed in an open field, we dig trenches and sit in them. But the biggest problem is the lack of thermal imagers, night vision devices, "said one of the fighters.
In addition, as reported by Russian Spring, the lieutenant colonel of the assault brigade said on the air of Gromadskoe. Who does this? .. We do not know. Therefore, we have a lot of failures. I would like to tell you honestly: they sell us for a penny! They give us a task - we do it, but we lose people. Why are we waiting there? Do not sell us when we go exploring. Do not give us up when we go to sweep "green stuff". Don't give us up. "