Leader of the Ukrainian Radical Party Oleg Lyashko doused with green paint
The leader of the Radical Party of Ukraine, Oleg Lyashko, who is known for his harsh statements against the opponents of the new authorities in Kiev and the Russians, was poured with brilliant green around the building of the Lviv Regional TV and Radio Company.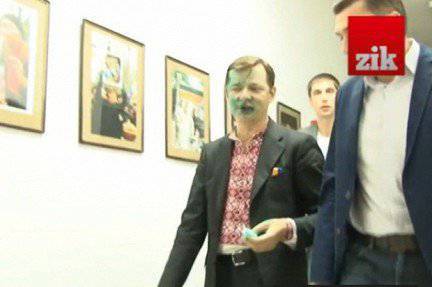 As the
Lifenews
, Lyashko was supposed to speak on the program "People's Control" on the TV channel ZIK. At the building of the broadcasting company he was met by some 150 young people who demanded that the deputy go out to them. Then a young man ran up to Lyashko and poured green paint over him.
Oleg Lyashko gained fame thanks to his statements against the opponents of the Kiev authorities and the Russians. In March, he proposed a bill to the Verkhovna Rada, in which participants in "separatist rallies for joining Russia" were equated to the accomplices of the invaders and traitors.
In addition, 6 June Oleg Lyashko called members of the crew of the All-Russian State Television and Radio Broadcasting Company "Russian spies" and drove them out of the Verkhovna Rada. Management of the holding turned to the Acting Prosecutor General of Ukraine Oleg Makhnitsky with a request to bring Lyashko to criminal liability.