The Ministry of Defense decided to make adjustments to the requirements for some of the anthropometric characteristics of contractors and cadets. The main list of requirements is provided by the Main Military Medical Directorate of the Ministry of Defense of the Russian Federation. The data from this list is a newspaper.
"News"
.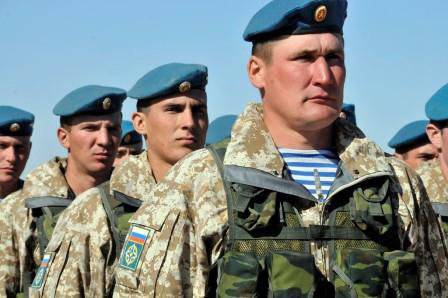 Here is one of the main innovations: for the fighters of the Russian special forces and military personnel serving under the contract in units of the Airborne Forces, it is proposed to change the height and weight thresholds. Now contract servicemen and cadets of a special category of military universities (for example, universities of the Airborne Forces) may not grow from 170 cm, as it was until recently, but from 165 cm. Maximum growth will be 190 cm. This is 5 cm above acting top slats.
Innovations relate to the rules of recruitment on the mass of the body of the contractor and the cadet (again for the airborne forces and special forces units). Now it (mass) can be up to 100 kg. Previously, the upper limit of body weight was 90 kg.
The source of the newspaper "Izvestia" in the Airborne Forces informs that the reason for such a move is not related to the shortfall, but is related to the anthropometric features of the modern young man and changes in military equipment and equipment.
New (parachutes) D-10 stand up to 120 kg, 100-kg paratrooper can take another 20 kg of load. It is not associated with a shortfall. Those who want to serve a lot, on the contrary - they were given more opportunities.
If in BMD-1 to put the guy in height 190 cm, it will be hard for him. But in BMD-3 and BMD-4, he will feel comfortable.