New Russian military equipment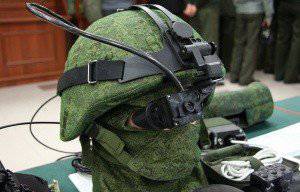 According to the
ITAR-TASS
, General Director of the Central Research Institute of Precision Engineering (TsNIITOCHMASH) Dmitry Semizorov said in an interview at the armament salon "Eurosatory-2014" that the new Russian set of soldiers' equipment will be able to protect against any samples of individual rifle
weapons
that are in service with different armies of the world.
"The equipment of the 2 generation, on the basis of which the" Warrior "kit was developed, provides protection to the serviceman who conforms to the 6 class according to national GOST," said Semizorov. - This means that today there are no small arms that could pierce it. In addition, we were able to increase the fragmentation protection area to 80% of the total area. "
According to him, the weight of the new set does not exceed 24 kg. "This is a unique indicator that foreign analogues cannot achieve," noted Semizorov.
The CEO emphasized the protective helmet that comes with the kit. "With a mass of only one kilogram, it retains high performance characteristics, which foreign analogs do not have," he said.
The modularity of the new set of upgraded equipment allows to meet the needs of various military specialties.
"In addition to motorized rifle units, both airborne troops and marines will be able to use it," noted Semizorov.
According to the CEO, the mass production of the kit will begin at the end of 2014.