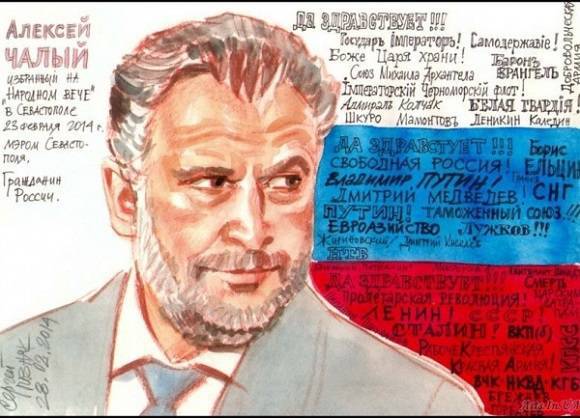 Chaly: All fairy tales about the so-called "brotherly" people should be forgotten. Our brothers in the DNI and LC. And the slop does not interest us!
After the events in Kiev, when the fascists showered the building of the Russian embassy, ​​Moscow should stop conducting a dialogue with this country, said Alexey Chaly on his Facebook page.
"Everything that has happened openly demonstrates to us that Ukraine is an absolutely fascist state, in which not only the power is Nazi, but also the citizens themselves. From now on, there can be no talk of dialogue with Moscow, we Russians should respect ourselves honor and dignity. Tomorrow it is necessary, as agreed, to stop the gas supply, to abolish absolutely all negotiations with Kiev and the European Union on this issue. Let them go to hell. D netsuke and Luhansk People's Republic and the mud, fortunately, we are not interested ", -. writes Chaly.
"The reaction in the UN Security Council was completely predictable, where the Russian demand for punishing Kiev in connection with non-diplomatic actions against the Russian diplomatic mission was blocked. I am sure that they will soon feel the seriousness of the consequences of their actions. They will vividly recall how Hitler walked around Europe. Also the Nazi Andrei Deschitsa (the so-called "Foreign Minister Ukraine ") allowed himself insulting expressions against Russian President Vladimir Putin. You know, friends, diplomacy is diplomacy, but we are for the Tsar. This nasty fascist creature will ask for an apology to our leader even on his knees. he concluded.