Motorola spoke about the downed Su-25 of the Ukrainian Air Force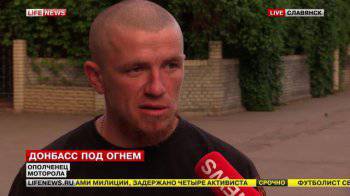 Donbass militia fighter, known as Motorola, told a correspondent
LifeNews
about the losses incurred by the Ukrainian army. In particular, he shared information about the Su-25 attack aircraft, shot down recently under Slavic.
"During the assault on Semenovka, the Ukrainian military used
Aviation
. Not counting on a serious rebuff at the first approach along the village, the leading aircraft flew very low and turned around with a strong roll of the fuselage. I gave a command to the machine gunner to "work out" the plane. After 15 minutes, we received confirmation that the plane was destroyed, "Motorola said.
According to the headquarters of the Army of the Southeast, militiamen shot down the Su-25 3 attack aircraft in June. In addition, one tank was shot down and a Mi-24 military helicopter was shot down.
In addition, on June 14 approximately at 4: 30 in the morning two Su-25 aircraft struck an airstrike on the building of the Department of Internal Affairs in the village of Gorlovka. A return fire was fired at them, as a result of which one of the attack aircraft was put out of action. The pilot of the plane managed to eject.
This information was confirmed by representatives of the press service of the Donetsk People's Republic.
"The information that" drying "has been brought down has been confirmed. The pilot was taken for interrogation, he is being interviewed, "said Konstantin Knyrik, head of the South-Eastern Front information center. - I can't specify the exact location of the crashed aircraft, we "took" the pilot at the place where the parachute fell.