Gaddafi predicts NATO major defeat in Libya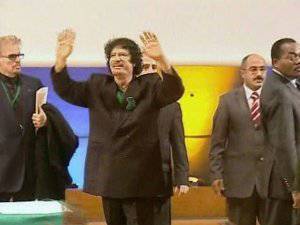 Libyan leader Muammar Gaddafi spoke on state television on Friday. He said that NATO forces would be defeated.
"They will be defeated, the NATO forces will be defeated. We are determined not to change our country, if that is not our own will, not the will of the Alliance's planes," Gaddafi said.
"We resist, we fight, if they come to the ground, we will meet them, but they are cowardly, they will not dare," the Libyan leader continued. He called on the Libyans to prepare for the liberation of the country, reports Interfax.
From 31 in March, when the command of the operation passed into the hands of NATO, and until 12 in June, the alliance's aircraft attacked two thousand targets in Libya. These include launchers of ground-to-air missiles, radar, 130 command and control units, around 600 tanks and other armored vehicles, artillery shells and around 750 ammunition depots. 10 combat aircraft and helicopters, 10 ships were disabled.
However, on a par with NATO military bombs and civilian objects. This was recently announced by the head of the International Chess Federation, Kirsan Ilyumzhinov, who visited Tripoli and met with Muammar Gaddafi.
US spending on operations in Libya alone through the Pentagon amounted to 716 million dollars and reached 1,1 billion by the end of September. Such figures are contained in the White House's report to the Congress, entitled "US Activities in Libya."
Ctrl Enter
Noticed a mistake Highlight text and press. Ctrl + Enter