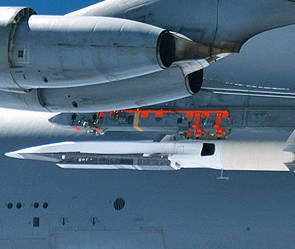 The second experimental test flight of the X-51 WaveRider hypersonic rocket ended with a crash into the water off the coast of California. Unmanned X-51 for the flight was dropped by a strategic bomber B-52.
After a four-second fall, the rocket engine successfully earned, RIA reports
News
. But then the aircraft was unable to separate from the rocket at the right time and fell into the waters of the Pacific Ocean near the state of California.
Recall that the first test flight of the X-51 was carried out successfully in 2010. Tests of the new "global shock
weapons
"began to be planned back in 2008, during the administration of George W. Bush. The rocket is made of nickel alloy and has the standard dimensions of an air-to-surface missile.
Four-meter X-51, as expected, will be able to develop the speed of 6,4 thousands of kilometers per hour, which is 6,5 times the speed of sound and eight times higher than the speed of a conventional cruise missile. If successful, programs at the Pentagon are hoping to get a weapon that allows them to deliver very fast - maximum within 60 minutes - pinpoint strikes anywhere in the world on a global scale.
According to the American military, it is necessary for the successful fight against terrorism. The device was developed by Boeing Corporation. "X-51 can be an ideal weapon for remote regions of the world, on which the US needs to deliver quick blows," said Mark Lewis, chief US air science expert. The development cost was 240 million dollars. According to Lewis, after the start of the test, it will take about eight more years before the new rocket goes into service.