Detention at the walls of the Russian consulate in Odessa
In Odessa, local Maidan activists staged a picket outside the Russian consulate. Those gathered at the picket at first expressed their position quite peacefully, then young people with banners of neo-Nazi movements in Ukraine appeared in the crowd. Automobile tires began to be brought to the consulate building. Reports about it
ITAR-TASS
.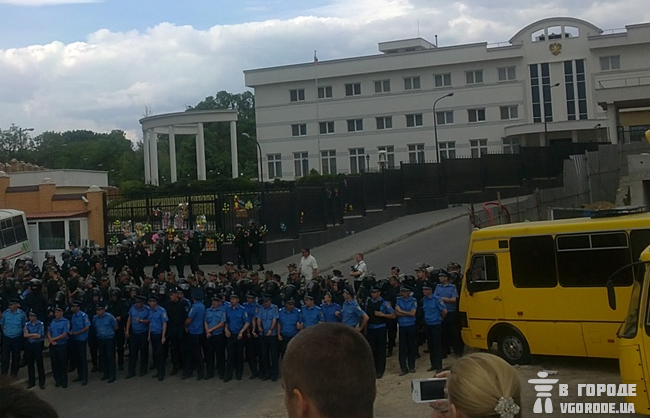 After some time, a scuffle ensued among those gathered on the "patch" in front of the consulate. According to preliminary data, the radicals attacked people who expressed their dissatisfaction with the fact that the Russian diplomatic mission in Odessa could be attacked. During the fight, several people were stabbed, and were subsequently taken to the nearest hospital.
The police officers, who lined up in front of the consulate, participated in the detention of the most active participants in the picket by 4's. After that, the governor of the Odessa region Palitsa said that the detainees found explosives and cold
weapon
.
One of the residents of Odessa believes that now the law enforcement agencies will "filter". Now this word in Ukraine is used quite often. In this context, it means this: if it is established that the detainees are Maidan supporters, they will be released, if they detained those who called not to attack the diplomatic mission, they can be accused of provocations and preparing the terrorist act with all the consequences. In connection with the series of recent events in Ukraine, such a scenario is very likely.
The ladies with their "soothing" speeches in Odessa did not appear.