Ukrainian refugees need fraternal assistance
People who leave the south-east of Ukraine, traveling to Russia, declare that the units of the Ukrainian security forces are shelling columns of refugees.
"Russian newspaper"
publishes data indicating the shelling by militants of the National Guard buses, in which women and children go to Russia. Private cars and public transport crossing the Russian border often have traces of bullets and fragments.
At the same time, the Kiev authorities continue to persist, stating that the humanitarian corridors are highlighted. In addition, Kiev invites residents of the Luhansk region and the Donetsk region to "filtration camps", in which citizens will be tested to participate in armed confrontation against the Ukrainian punitive detachments.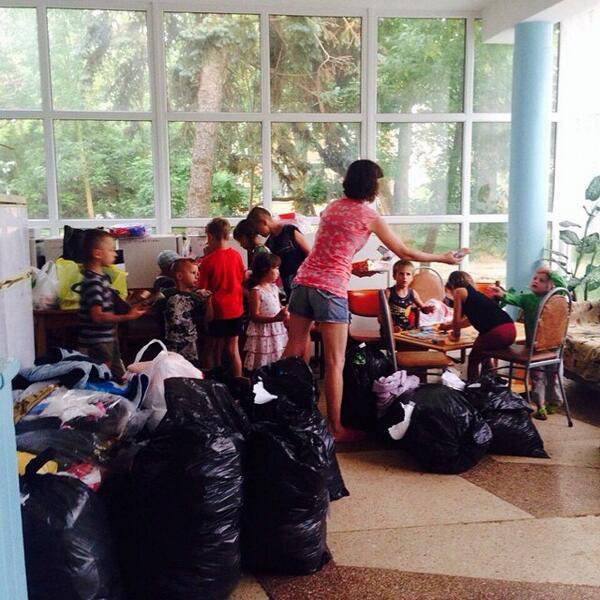 According to
ITAR-TASS
, for the last month, more than 120 thousands of residents of the south-east of Ukraine entered the territory of the Rostov region Basically, they are women and children, as Kiev imposes restrictions on the departure of Ukrainian men. Of the 120 thousands, about 70 thousands remain in the Rostov region.
Tens of thousands of refugees crossed the borders of the Belgorod and Voronezh regions of the Krasnodar Territory. Local authorities temporarily place people who are forced to leave their native land in dormitories of educational institutions, children's camps. The tent camps grow along the border.
Feasible assistance is provided by residents of Russian cities. Residents of Voronezh, Borisoglebsk, Rossosh, and other settlements of the Voronezh region offer assistance in accommodating visiting people, help the most necessary things: medicines, food, children's things.