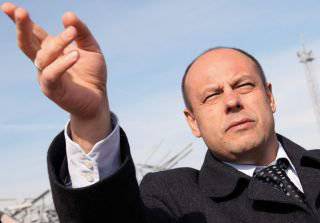 After another failure of negotiations between Gazprom and Naftogaz in the presence of a third party (EU) and after non-payment of the 2 billion part of the debt by Kiev, Moscow filed a lawsuit in the Stockholm arbitration for recovery of Ukrainian debt for gas and transferred Ukraine to prepayment. The amount of debt is about $ 4,5 billion. In turn, "Naftogaz" sent a lawsuit to Stockholm, which expressed financial claims to Russia in the amount of $ 6 billion. It is reported
"Prime"
.
At the same time, Naftogaz is trying to explain where this astronomical sum in 6 billions of dollars of "Russian debt" came from. According to ukroeconomists, "Naftogaz" for the last 4 of the year exactly "overpaid" to "Gazprom" for blue fuel. Yuriy Prodan, who, together with the then Prime Minister of Ukraine, Tymoshenko himself participated in the signing of the contract, which is still in force today, is now "rolling in Vanka", claiming that the price to Ukraine was not suitable initially. And with what purpose then put their signatures in the contract, which to this day has not been canceled?
The head of the Duma Committee on International Affairs, Alexei Pushkov, in his microblog recorded the following character:
The introduction of prepayment for Kiev is the only possible step. She had to enter a month ago. Let Yatsenyuk receive shale gas from the United States.

The head of Gazprom, Alexey Miller, announced blackmail, which the Ukrainian side frankly went to during the negotiations. According to Miller, representatives of the Ukrainian delegation said that if Moscow does not agree to provide ultra-low gas prices, Kiev will take it from the transit pipe in the quantities necessary for itself.
Alexey Pushkov on Twitter:
Kiev assured the EU that it would fulfill its obligations on the transit of gas to Europe. Perfectly. And if they steal gas, then this is a problem of the EU, not ours.
Objectively, the EU remains our partner in the matter of gas supply. The position of Yatsenyuk broadcasts the US line to the escalation of the conflict - not Europe.