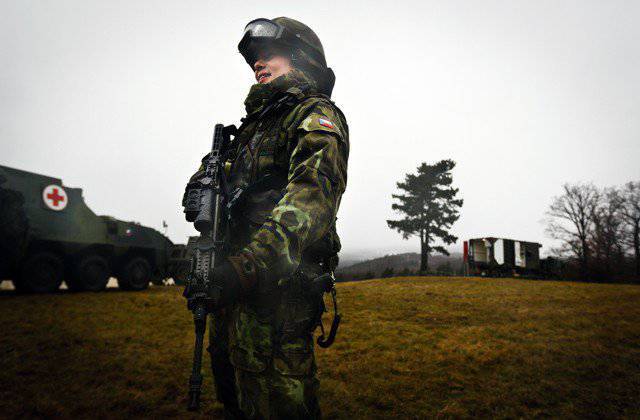 The armed forces of these three countries are unable not only to advance, but also to defend; but they do not expect to fight with anyone
Hasek's famous book about the brave soldier Schweik is most interesting not with his humor, which by the end of the book becomes slightly intrusive and somewhat tiring, and showing how Austrians, Hungarians and Slavs treated each other as countrymen in Austria. Hungary.
"And in the middle of the street, Vodichka, an old sapper, was fighting like a lion, with several Honeds and Honduran hussars standing up for their countryman. He skillfully waved his bayonet on his belt like a flail. Vodichka was not alone. Several Czech soldiers from various regiments fought shoulder to shoulder with him - the soldiers were just passing by. "
The Honeds are Hungarians. The case took place on the Hungarian territory, through which a train with Czech soldiers was passing. A few days after this massacre, Colonel Schroeder (Austrian) showed Hungarian newspapers to Commanders of the Czechs, Lieutenant Lukasch, in which "compatriots" Czechs were literally depicted as fiends of hell. And he said, in particular, the following: "We, the Austrians, - whether Germans or Czechs - are still great against the Hungarians ... I will tell you frankly: I like the Czech soldier more than the Hungarian rabble."
That is, the Hungarians hated everything, while the Germans and Czechs also did not like each other, to put it mildly. Therefore, the Slavs did not have the slightest desire to fight for this country.
Czech Army
After gaining independence in 1918, Czechoslovakia possessed a very powerful armed forces (AF) and military-industrial complex. However, the desire to fight with the inhabitants of the country did not appear. The Czechoslovak army showed no resistance either to the Germans in 1938 or to the troops of the Warsaw Pact after 30 years. At the same time, at the beginning of the 90s, the country possessed formally very powerful aircraft - 3315
tanks
, 4593 infantry fighting vehicles and armored personnel carriers, 3485 artillery systems, 446 combat aircraft, 56 attack helicopters.
After the collapse of the Warsaw Pact, and then Czechoslovakia, both of its parts began to bring their Armed Forces into a natural state, which, however, completely coincided with European trends. With regard to the Czech Republic, this was aggravated by the fact that the country is now in the depths of NATO and does not feel any external threat at all, which is quite true.
Most of the weapons and equipment produced in the Czech Republic, either under Soviet licenses, or on the basis of Soviet models, there are also quite a lot of Soviet-made equipment.
The Czech ground forces today include seven brigades: 4-th rapid response, 7-th mechanized, 13-th artillery, 14-th logistical support, 15-th engineering, 31-th REB.
The tank fleet consists of 123 T-72 (including 30 modernized in the Czech Republic T-72М4CZ, considered the most advanced version of this multi-faceted tank). There 137 BRM and armored cars (30 BRDM-2RH, 84 Italian Iveco LMV, 23 German "Dingo»), 387 BMP (168 BVP-1 (BMP-1), 185 BVP-2 (BMP-2), 34 BPzV (reconnaissance variant BMP-1)), 129 BTR (five own OT-64 and 17 OT-90, 107 Austrian "Pandoor").
The artillery of the Czech Army includes 89 wheeled self-propelled guns "Dana" (mm 152) and mortar 93.
The Czech Air Force consists of four air bases and one brigade. Battle
aviation
formally totals 37 aircraft, in fact it simply does not exist. The fact is that 14 JAS-39 fighters (12 C, 2 D) belong to the Swedish Air Force, and are leased in the Czech Republic. 23 attack aircraft of own production L-159 (19 A, 4 T1; another 41 A and two T1 are stored and intended for sale abroad) can only be conditionally considered combat due to low performance characteristics. These machines were created on the basis of the old training L-39 (there are now 18 - eight C, ten ZA in the Czech Air Force), so they are completely unsuitable for modern warfare.
Transport aviation includes four Spanish C-295, 2 Yak-40 (two more in storage), two European A-319CJ, one Canadian CL-601, 10 L-410 (two more in storage); four An-26 are in storage.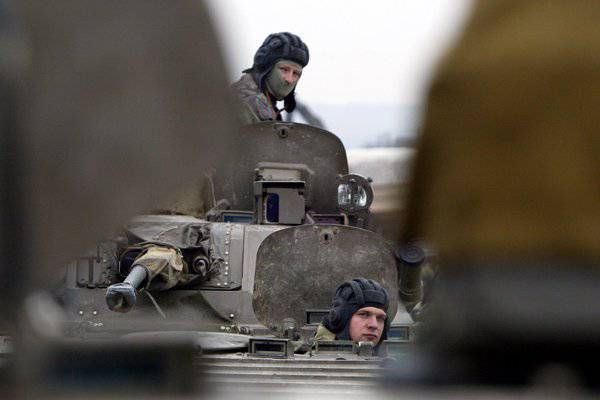 Czech soldiers during military exercises in the village of Slatina, Kosovo. Photo: Visar Kryeziu / AP
There are 15 combat helicopters (ten Mi-35, five Mi-24В; another five Mi-24D and ten Mi-24В in storage) and 48 transport and multi-purpose helicopters (ten Polish W-3 "Falcon", three Mi-8, 27 Mi-17, eight European EC135T; another six Mi-8 and one Mi-17 - in storage).
Ground defense includes only 47 Swedish RBS-70 MANPADS.
In general, the combat potential of the Armed Forces of the Czech Republic is negligible, the morale is even lower than it was before. That, however, does not matter either for the country itself or for NATO.
Slovak Army
After artificially dividing Czechoslovakia, without taking into account the opinion of the country's population, Slovakia received an 40% of the armed forces of the disintegrating country and about the same share of the very powerful Czechoslovak military industrial complex. Over the past 20 years, the country has lost most of its military and military-industrial potential, joining NATO in 2004 only accelerated this process. As before, the aircraft are armed only with Soviet and own equipment, with the exception of seven armored vehicles from South Africa.
Ground forces include the 1 and 2 mechanized brigades.
Armed there 30 T-72M, 71 BRM BPsV (based on BMP-1) 253 BMP (91 BVP-2, 162 BVP-1), 77 APCs and armored cars (56 OT-90 (even 22 in storage) 14 "Tatrapan", seven South African RG-32M), 16 SAU "Zuzana" (155 mm), 26 howitzer D-30 (122 mm), six mortars M-1982 (120 mm), 26 RS-RM-70 mm-40 RM-122 mm, 425, 48 mm, X-NUMX RM-10 (X-NUMX mm) ), 315 ATGM "Baby" and "Storm", 2 ADMS "Strela-XNUMX", XNUMX MANPADS "Strela-XNUMX" and "Needle".
The country's air forces are armed with 12 MiG-29 fighters (including two combat-training MiG-29UB); four more (including one UB) in storage.
There are 11 transport aircraft (nine L-410 (two more in storage), two An-26), ten training aircraft L-39С (another 11 in storage).
All 11 combat helicopters Mi-24 (five D, six V) are in storage, as are all nine multipurpose Mi-8. 18 multipurpose Mi-17 helicopters (including four rescue helicopters) and two Mi-2 (ten more in storage) are in the ranks.
Ground defense consists of one C-300PS air defense missile system, four Kvadrat batteries.
Hungarian Army
Another part of the deceased empire, Hungary, traditionally created problems for all. First, Austria, with which it constituted this "dual monarchy," that is, Austria-Hungary. Then, in the era of the Warsaw Pact - the USSR. Today, Hungary, becoming a member of NATO and the EU, is already causing problems to them, since its current leadership is taking steps in domestic politics that are very far from the norms of democracy. However, Brussels in both its incarnations can only admonish Budapest, he has no other measures of influence on the eternal rebel.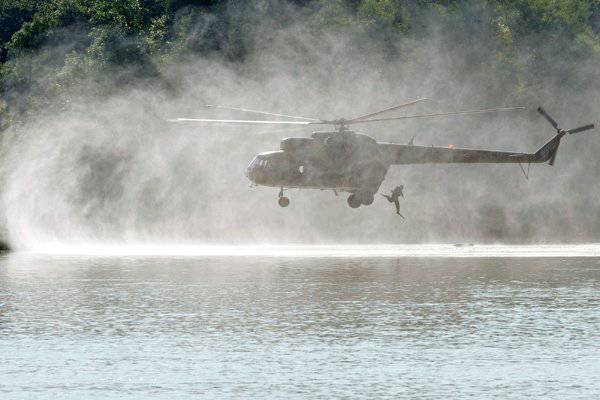 Mi-8 helicopter during exercises of the Hungarian Armed Forces. Photo: Bela Szandelszky / AP
At the same time, Hungary is in very difficult relations with neighboring countries where there are significant Hungarian minorities - Serbia, Romania, Ukraine, Slovakia. Interestingly, Romania and Slovakia are like allies of Hungary in the same NATO and EU.
As part of the Warsaw Pact, the Hungarian Armed Forces were the weakest. At the beginning of the 90's, she had 1345 tanks, 1720 BMP and BTR, 1047 artillery systems, 110 combat aircraft, 39 combat helicopters. Naturally, it was all Soviet-made. Since 1999, the country is in NATO. At the same time, he retains all the same Soviet equipment (except for Swedish fighters and French MANPADS), only it has become much smaller.
The ground forces include 5 and 25 infantry brigades, two regiments (43 communication and command and control, 64 logistics), three battalions (34 special operations, 37 engineering, 93 RHBZ).
In service - X-NUMX tanks T-156 (most of them are in storage), 72 BTR-602, 80 howitzer D-31, 20 mortars 50М (37 mm).
The Air Force includes the 59 air base (it includes all aircraft), the 86 air base (all helicopters), the 12 air defense missile regiment (all ground air defense systems), the 54 radio engineering regiment.
The Air Force has all 14 combat aircraft - Swedish JAS-39 Grippen (12 C, 2 D), and, as in the Czech case, they are formally owned by Sweden, and in Hungary they are leased. In addition, 25 MiG-29 (six of them are UB), eight Su-22, 53 MiG-21 are in storage. MiG-29 put up for sale, the rest are awaiting disposal.
There are also five transport An-26, ten training aircraft Yak-52 (16 L-39ZO in storage), 12 multi-purpose helicopters Mi-8 (still 14 in storage) and seven Mi-17. The 43 combat helicopters Mi-24 (31 D, eight V, four P) are in storage.
Ground defense consists of 16 air defense missile "Cube" (apparently already incapacitated) and 94 MANPADS - 49 "Needle", 45 "Mistral".
Thus, the combat potential of the Hungarian Armed Forces is insignificant, not providing not only external ambitions in the territories of its neighbors, but also its own defense capability. However, this situation fits into modern European trends.
There are no foreign troops on the territory of all three countries described, and their total military potential is less than, for example, in Azerbaijan alone. But since they will never be at war with anyone, this fact has no significance. Moreover, there is no doubt that in the near future the Czech, Slovak and Hungarian armies will be reduced even more.