In Libya, the Gaddafi Palace was blown up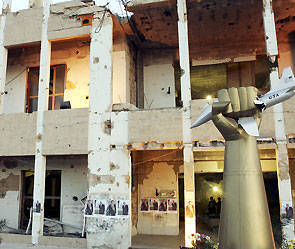 In the residence of the Libyan leader Muammar Gaddafi in Tripoli, powerful explosions thundered. After that thick clouds of black smoke rose above the palace.
On Thursday morning, residents of the Libyan capital said that they had heard several loud explosions that occurred in the area of ​​residence. Eyewitnesses confirmed that a column of smoke is rising above the palace itself, ITAR-TASS reports. The causes of the incident are being investigated. According to preliminary data, in the center of Tripoli, NATO struck an airstrike. Earlier, the planes of the Western coalition have repeatedly tried to bomb the residence of Muammar Gaddafi.
The US Department of Defense noted that the country's spending on operations in Libya has already exceeded 700 million dollars, Vesti.Ru reports. At the same time, about 400 million dollars were spent on bombs and rockets, and over 313 million - on flight support and military personnel. According to the Pentagon, by the end of September, fighting in Libya will cost Washington more than a billion dollars.
As they wrote to Dni.Ru, the US senators and congressmen have already filed a lawsuit against the White House because of this war, started without the consent of the parliament. Representatives of the Republican Party also said that they were not satisfied with the report of the Barack Obama administration on the situation in Libya. "The arguments creatively picked up by the White House raise many questions that need to be discussed in detail. At the same time, no matter what, the commander-in-chief bears the responsibility to clearly articulate how much US military operations (abroad) meet the interests of national security and meet In the case of Libya, the president did not fulfill this task, "stressed the House Speaker John Bonner.
Meanwhile, Russia's special envoy to Africa, Mikhail Margelov, went to Tripoli to negotiate with the Libyan leadership. The politician expressed the opinion that the NATO countries would allow Muammar Gaddafi to stay in his homeland if he agrees to leave power.
"In the Arab world, in Africa, there are traditions of forgiveness, there are traditions of reconciliation. Former Algerian leader Ahmed bin Bell after his overthrow lived quietly as a private person in Algeria. with his tribe, which owns Muammar Gaddafi, would also be a worthy way out of this situation ", - leads RIA
News
words Margelov.
He noted that although the Libyan leader and does not occupy any official positions, but with his family plays a key role in the economy and politics of the North African country. "For any responsible person, it is important to recognize the changed conditions and soberly assess their place in the changed conditions," the presidential envoy emphasized.
Ctrl Enter
Noticed a mistake Highlight text and press. Ctrl + Enter