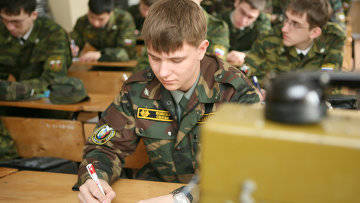 After a two-year break, the military universities of the Ministry of Defense are again starting to recruit applicants for higher education.
"The recruitment of applicants with subsequent entrance exams will be carried out in June, in the Western Military District, it will be held at 20 universities of the Russian Defense Ministry. In total, it is planned to enroll cadets first-year students in military universities of ZVO," the representative of the West told ITAR-TASS today Military District Lieutenant Colonel Andrei Bobrun.
Future officers are awaited in the branches of the Military Training and Scientific Center of the Ground Forces in Moscow and Ryazan, the Military Academy of Army Air Defense in Smolensk, the Military Aviation Engineering University in Voronezh, the Military Academy of the RCBZ troops in Kostroma, the branches of the Military Space Academy in Cherepovets and the Moscow Region, the branch Military Academy of the Strategic Missile Forces in Serpukhov, Military University in Moscow and some other universities. In St. Petersburg, a set of cadets takes place at the Mikhailovsky Military Artillery Academy, the Military Space Academy, the Military Academy of Communications, the Military Institute of Physical Culture, the Military Medical Academy, a branch of the Military Academy of Logistics and Transport, as well as at naval universities.
In 2009, the Ministry of Defense introduced a moratorium on the recruitment of cadets: the number of graduates of military universities exceeded the vacant officer positions in the Armed Forces in 4 times. At the same time, the ministry reformed universities, which was associated with their enlargement or reduction. The Defense Ministry currently has 15 military academies, 3 military institutes, 15 military universities and 17 military schools. They prepare students and cadets in 300 specialties.