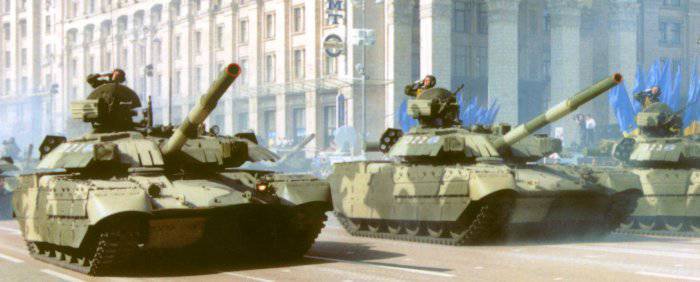 Three months ago, all Ukrainian media enthusiastically wrote about a tender for the supply of 200 won in Thailand
tanks
"Hold". They watered the Russian T-90 with slops, and made all the gestures laid out in this case. Three months have passed. The only link found is on some Thai yellow leaf. There is no information on the contract to this day. Director Malyshev Borisyuk removed from office.
By the way, "Oplot" was created within the framework of the USSR program "Improvement-88". 23 th year improve.
I would still like to find out how long people will be fed with fairy tales? A new tank for 1,15 million dollars you can buy except in a dream. As well as to collect money for the construction of the Ukrainian corvette throughout Ukraine, offering to give part of the salary.
For reference. The Ministry of Defense placed an order for the manufacture of 10 tanks at the Malyshev plant. The cost of the contract, which was concluded in the spring of 2009, is 295 million UAH (37 million dollars). 3,7 million bucks for a tank is already a super-corruption (according to experts, the cost of a tank on the Ukrainian market is 1,7 million dollars !!!). And for Thailand 1,15mln ?! Rave.
Similarly, with plans to build a terminal for receiving liquefied gas or the development of shale gas. How long will the Ukrainian authorities live by fantasy and feed people with tales?
Returning to the tanks I want to ask. How can you compare the 10 produced by Ukraine for the 11 years of "Strongholds" with thousands of only T-90 sold abroad. This is not counting the incoming troops. Russia, after all, according to SIPRI, ranks first in the world in terms of tanks sold.
What is happening in Ukraine? Well-organized collapse with the subsequent distribution of pieces of the motherland to all wishing neighbors?