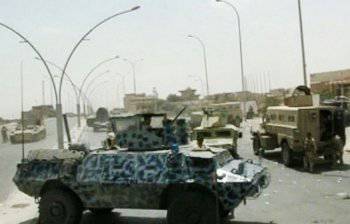 According to the
"Vesti"
, Iraqi militants continue to advance towards the oil-rich region of Kirkuk. Armed extremists seized several areas of Salah al-Din province. Now, the fighters of the Islamic State of Iraq and the Levant are heading north to the border with the province of Tamim and towards the oil-rich province of Kirkuk.
Earlier, the militants managed to seize the city of Al-Huweija and the province of Ninawa with the administrative center in Mosul.
It is worth noting that the Iraqi authorities are in no hurry to take active steps to eliminate the militants in the occupied areas. Parliament will consider the possibility of entering a state of emergency only on Thursday.
On the eve of Iraqi Prime Minister Nouri al-Maliki said that a general mobilization is needed to return citizens to normal.
On Tuesday, UN official representative Stefan Douzarrik said that UN Secretary General Ban Ki-moon is concerned about the destabilization of the situation in northern Iraq.
"The Secretary-General calls on all political leaders to demonstrate unity in the face of the threats facing Iraq, which can only be solved on the basis of the constitution and within the framework of a democratic political process," he said.
Ban Ki-moon called on the Iraqi government and the Kurdish administration to start cooperation to restore stability and deliver the necessary humanitarian aid.
"The UN Assistance Mission in Iraq is ready to support these efforts," Dujarrik said.
"The Secretary-General recalled that all member countries (UN) have an obligation to comply with and apply point-level financial sanctions, arms embargoes and travel bans against the Islamic State of Iraq and the Levant under UN Security Council resolution 1267 and 1989", - he added.