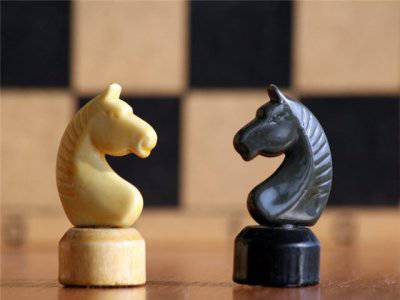 I rarely write, only when it's absolutely impossible to be silent. This time, the last straw was the article "Brilliant Gunmen dot the Eo. Read everything!" Below I will try to present my view on the events.
The first thing everyone would pay attention to is that the trolls regrouped after last year's failure, prepared new training manuals, and again begin to crap our brains together. Now they work more cunningly, so do not relax your mind and do not succumb to provocations.
Secondly, I would like to express my opinion on the events in Ukraine. I will not repeat capital letters and will not call customers and performers, everything is clear to everyone. I want to draw attention to the position of Russia and the actions of the militias.
Tell me, why did Russia conduct a brilliant operation in the Crimea, a polite operation, how did this go to the masses? Without a single shot and without a drop of blood? What for? If two weeks later a group of desperate guys started playing partisans in the Southeast? In whose interests did Strelkov and his people act? Was there such a critical situation that there was no other solution besides running with machine guns? Or were you thinking of playing heroes under the guise? So now what, not so heroic opinions, when ironed by "Grads" and
aviation
? Or did you think that you just need to start, and then the older guys will catch up? So this is the thinking of a gop-stop, Russia is still at an incomparably higher level of consciousness, and will not play along with such "heroes".
Now it's customary to put pressure on the "Russian soul" and Russian soldiers, they say, we always win and are ready to endure anything to win. So quickly grabbed everything that is, and drove with sticks
Tanks
turn over ... We are Russians, and we don't leave ours.
This is true, but the Russians are warriors, not sheep. And if someone from overseas thinks that we, like bulls on a red rag, rush headlong into a trap that we have been placed in Ukraine, I will answer for myself that no - I will not go kill and die, just because it is necessary for someone. I'll think about it first. Are there any Russians there that I don't leave as a Russian? Or is there already an incomprehensible population with its own selfish interests, which wants to come to our own freebie on our blood?
Where are these Russians for whom you don't feel sorry for your life? Does 7 000 000 live there? Where are the peaceful rallies even for 500? 000 people? Interfere with "Bandera"? Well, before, maybe, but what about today? Where is the march of the world at least in 1 000 000 people from two areas? Go out and show the whole world, and first of all Russia and me, that you are really opposing Russophobia and the Ukrainization of Russians. Do it, what are you waiting for? In Donetsk, a rally happened about 1500 people ... This is when you and your loved ones are killed and bombed? Do they even have brains there? What interests can there be in order not to go out and say no to all this mayhem ... But no one comes out.
How does everything look from the side? I see that in the Ukrainian chaos some people wanted to play around, perhaps with the "Russian idea," perhaps in their personal interests. Some small groups of armed people who wanted to provoke the Ukrainian authorities first to a bloody response, and after that Russia to the war with Ukraine and the West, were put together. And what will the Russians end up with? Return your lands and 20 000 000 to your population? Or fall into the trap when they just started to get out of that trap? in which we were driven into the 90s?
In Russia, only the second year is the minimum natural population growth, we just moved away from the Russian cross. We began to develop our economy, finally invest our reserves in our own development, create a friendly union ... and we are again being sent to the slaughter for war.
I do not agree with this, I want my people to live at least a hundred years in the world and regain their strength, I want us to put all our strength to our own development, and not to the destruction of competitors. For we have a lot of competitors and, while you destroy one, others become stronger. Russian total 130-150 million, and the population of the planet - 7 000 000 000 people. We need a Russian billion, we have everything for this, and the earth, and resources, and the mind and God within us. But we do not need war. Let's fight at least once, when we are ready for this for all 100%. Today they are not ready for 100, which means that they will have to pay for their lack of readiness with their lives again. And our lives are too expensive, because we are so little.
Look at all the events in
historical
run. Today we are the last bastion of humanity and traditional values. We are a unique civilization, and we must survive. Want to help in the "great confrontation" - help, but first help yourself. Lead a healthy lifestyle, create a family and raise children, create your own business or become the best specialist in your field, train and take care of your land, constantly study and become better. If necessary, then give your life for your homeland, but only as a last resort, and not for someone else's interests from above ... Here it is, our path, for the next decades.
They want to send us as rams for slaughter. "Russian, help your brothers die under the bullets of mercenaries ..." "Are you not Russian, were you afraid?" and such a crap only hot blood and prevents the mind from understanding the essence of the events. Remember the story, the Russians always defeated their enemies with MIND and only then with strength and patience. The Battle of Kulikovo - an ambush regiment, The Battle of the Ice with the Crusaders - the use of terrain and deterrence tactics, Borodino - a strategy higher than tactics, a counteroffensive near Moscow - positional warfare, enemy stretching and proper use of reserves, the Battle of Kursk, Poltava, Izmail and much, much more. The Russians have always beaten the enemy with intelligence and skills, and not just with strength and courage. So why are we now being forced into war in unfavorable conditions for us? Volunteers are good, but how competent is a young man who has a warm heart, but has neither training nor equipment? So why put pressure on patriotism and Russianness in this matter?
I remember reading a fiction book, years ago 5. I do not remember the names, but there is just about the civil war in Ukraine. All one-on-one, as it is now happening, the final scene was an explosion of a gas station with several tons of explosives, which stopped the advance of the Ukrainian / NATO troops for several days, they thought that they used TNW.
The prophetic book, well, at the end was a good thought. Although the "militia" lost, but in the refugee camps from Ukraine on the territory of Russia, entire national divisions were ready and formed to liberate all of Ukraine.
The meaning of everything written is for the Russians to hold their heads and start thinking. Not Ukrainians are our main enemies, and we don't need to lay down bones for the sake of defeating "hohlov". We need to gather strength for the main battle, each of us, and not to disperse our strength. There are people who are prepared and they do their job, do you want to help them? Get ready Everything is very simple.
This is my general view of the situation. And now on the points of the "interesting" article.
First, supposedly the opinion Strelkov.
1. If we had
weapons
in abundance, then only the Slavic militia would number several thousand fighters.
Grab military bases, warehouses with weapons. But only at the initial stage of confrontation. Especially, if the local population supports you all, you don't need a weapon at all. Spend the march of the world, collect at least 100 000 people. To make you believe that you are for "Russians", show these Russians you need to protect. 7 000 000 people live in areas. Bring at least 10% of the population to the streets, mobilize for a peace march, take buses, organize meals. Give a picture that the majority of the population is really Russian, and they want to go home and are ready to fight for themselves. This was not done, although it had to be done before an armed confrontation. Conclusion one, not the majority supports you. And then you call on Russia and the Russians for occupation, not for liberation. With all that it implies.
2. If we had the opportunity not only to arm (as well as dress and shoe) soldiers, but also financially support their families at least at the level of the average local salary (and people come to risk their lives!), Then in Slavyansk we would have a division and would stand in line for weapons.
The same as in the first paragraph. Adjusted for the question, what would you do with the division? Go to Kiev? Then it comes down to the fact that who has more money, he will hire more MERCENARIES. Speech is about mercenaries. If we are talking about the struggle for life and the rights of Russians, then the topic of money fades into the background. Spend the necessary nationalization, seize warehouses and food bases, provide soldiers and families with supplies and means. You say that more than 90% of the population supported in the referendum, let them act, no one opposes your decisions on the ground. Provide a closed loop economy at least for "your division." This is not done, but someone asks for 30 000 000 000 rubles from Russia, although in Russia for this money you can do 100 000 heart operations for sick children and save their lives ... Take our children and give them to your mercenaries? Such logic? Kill 100 000 Russian children to finance your division of 6 000 fighters?
3. If we had a rear (and it is absolutely necessary for a belligerent army), then we would already have been mobilizing, which would have given tens of thousands of fighters - and people still working (and not lying on the couch, like a great many "office plankton "of megacities of Russia, which had long forgotten what labor in industrial enterprises and in the extractive industry is), would en masse and be ready for it.
Same as yours. If yes if only ... You need to think in advance, you can always grab the machine. Weapons are the last resort, even the Maydauns and their Western curators, represented by the CIA, resorted to weapons only at the final stage of the confrontation.
I will repeat: why was it necessary to conduct a bloodless operation in the Crimea, where our troops had both a support base and massive active support of the population? When then in less convenient conditions it is suggested to cross the blades with banderlog and NATO? What is the logic of the call? They substituted Russia, and the blood now flows like water, and the problem is that it is not only the blood of the enemies. My opinion is a mediocre operation and sabotage the interests of the Russian world.
Now, regarding the lines of the author of the article.
1. When the people of Strelkov entered Slavyansk, as well as rallied in Lugansk and Odessa, the ideology (and the installation) was clear - to hold out until the moment when Russia would introduce peacekeeping forces. Do not let kill Russian before Day R.
Who interrupted Russian at this time? Where was it? In Ukrainian forums. Russia only conducted an operation in the Crimea, clearly and correctly, without a drop of blood. And here the guys nullify all acts of civil disagreement and political confrontation, translating the conflict into armed confrontation. What for? Did you have an agreement with Russia? 300 people took the right to decide for the whole Russian world and Russia? Morons? Have a different opinion? What did you count on? Russia will introduce its troops - on what basis? Russia has entered the army in the Crimea? Not. There were Russian troops ALWAYS. In Crimea, there was massive popular support. And there were not Russian troops, but "green men". This is the subtlety of the move, and hence the winning result. Such conditions were not in the DNI and the LC. We acted independently at our own peril and risk, the result was on their own shoulders.
2. Then the Kremlin chickened out. I will not throw stones at anyone individually, especially at Putin, since I have no task to shout: "Putin's gang is on trial." For such sins, the rulers are responsible at the Last Judgment. But we must clearly understand that the Kremlin was the only coward of Western pressure and Western threats, and did not "begin to adhere to a cunning plan." The forces in the Russian leadership, oriented to the West, in aggregate began to dominate those who can not always be called nationalists, but who in general are statesmen and anti-globalists, confident that the West will succeed in imposing its play by force.
But this is the work of trolls on new training manuals. Again, stereotypes and a drop in self-esteem. Cowards, traitors, agents inside the Kremlin. Above already written, as it really is. When the fate of a whole civilization and the lives of millions of Russians depend on you, you need to think with your head, and not run with a machine gun, like "Allahakbary." What the United States wants to draw us into. Do not be fooled by propaganda and sabotage.
3. Most likely, the whole story would have rolled back completely, but then the Ukrainians began to get up to SUCH (Odessa, Mariupol, etc.) that there was no turning back either. Hence the strange and shameful picture that we have been witnessing over the last month - inarticulate moans, contradictory gestures and attempts at ideological self-justification by creating myths about "clever multipurpose". Mnogohodovka was in April, and Slavyansk was part of it. In May, the multi-path was gone and even more so in June.
There was no road ahead. There was no extermination of the Russians, there was terror / intimidation. But it all returned as a boomerang to Kiev and Brussels. It was here that one had to be patient and to document everything. As soon as they took up arms, they got one level with them. And now you want Russia to come down to you to the same level of banderlogov / separatists? Whose interest is this? What was thought and thought at all?
Item 4 from the same opera. Nobody would have shot "Grads" if you hadn't shot AK at the windows. If there was at least one volley howitzer on civilians, the Russian army on all rights would reach the Polish border. But now there are illegal armed groups in the DPR and LPR. And they should protect the Russian army?
On the fifth paragraph, I agree. But what does it mean "but, having made the first step, this game could and should have been played to the end and nothing else"? That is, if you stumbled and stepped on an oncoming lane, you should call all your relatives so that it rolls out under the wheels of cars? For your business you need to answer yourself, and not call, naughty, older brother.
6. The situation of the inhabitants of Slavyansk, and of the entire Donbass, is now defined by the words "bestial betrayal." They were promised that their sacrifice and their exploits are needed for help to come from Russia.
Whose fantasies had such promises? Where? This is all a lie, no one has incited the Southeast to the ARMED Opposition, for this is only NATO and banderlog to play. Russia has powerful trumps in the struggle for Ukraine, but they are not in the category of war. Ukraine is bankrupt, and soon the whole population will see it, all they had to do was wait. Now the population tolerates the power of the oligarchs under the fear of an external military threat ... This is a setup for Russia. Russia will win in Ukraine as well as in Syria. But you need to act from the standpoint of good, not evil. The truth is ours, but today this truth has been blocked by blood ...
8. At the same time, I will emphasize once again that all possibilities existed, even after they refused from a large-scale operation, to pour into the Donbass and specifically into Slavyansk a sufficient amount of armaments and create normal logistic support, so that the Ukrainian army simply ceased to exist under Slavyansk. This would be a clear message to the West about the scale of the losses if they are set up for confrontation with the Russian Federation.
This is a wish of a person who has watched a lot of movies or has played enough video games. Unfortunately, Russia economically loses to the West, hence the protracted war to us in the negative. The events in Syria show that feeding the rebels with weapons only leads to more blood, but it is rarely possible to reverse the course of the war. But the costs for Russia will be enormous.
And most importantly, why was it necessary to raise a weapon if there was no plan and coordination with the Russian Federation? Backward mind all clever. I respect Strelkova, but he doesn't pull on the commander in chief. Maximum company to command him. Strategies are zero. Why didn't they create a headquarters right away, why didn't they immediately captured military units, warehouses and equipment? Why didn't a massive mobilization of vigilantes still at the peaceful stage of the process? Why did not listen to Russia, when it was necessary?
Further comment on this nonsense is not worth it. These are all the wishes of a "young man" who simply cannot even think that he is not the creator of events in the world. The fact that the guys from the camp of the enemy are able to work is not taken into account. His main desire is for beautiful tanks and airplanes to trample on his enemies, enemies that he does not even see or understand. The author has his head completely blown off, and with all his strength he wants the Russians to start mass-killing their Ukrainians in large numbers.
A blind person is a cripple. I wish everyone to think with their head, and first build themselves, and then go to fight.