About renaming Volgograd: opinions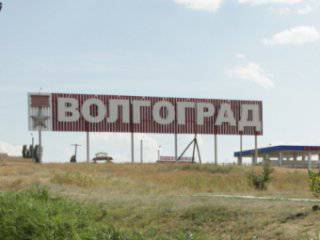 The expert of the REX news agency, human rights activist Efim Andursky invites his fellow experts and readers to discuss the legal aspects of the possible renaming of Volgograd. "I would like to share with my colleagues ambiguous
news
: Vladimir Putin does not exclude the return of the glorious name "Stalingrad" to Volgograd. However, is Putin right in asserting that the renaming of Volgograd is a matter for the subject of the federation and the municipality?
But what was the result of the survey about renaming Volgograd that I conducted in 2013: 2871 participant of this survey or 71% agreed with renaming, 1188 participants or 29% did not agree with this. In fact, Vladimir Putin has authorized the holding of a referendum. And that means - to be Stalingrad. It would be nice to return to the country and the Stalinist order. Preferably without kinking. But, apparently, Putin will not agree to such a move, "the expert notes.
IA REX: Is Putin right when he asserts that renaming Volgograd is a matter of the subject of the federation and the municipality?Nikolay Shelyagovich
, philologist and historian:
I propose an option that allows us to reconcile the various political forces of Russia and symbolically link Russian times together. Rename the city of Volgograd to Stalingrad, Volgograd region in Tsaritsyn region (province).
Sandra Novikova
, journalist and blogger:
Formally, everything is correct: the question of renaming a particular settlement must be decided first of all by the inhabitants of this settlement. However, there is a caveat: if the residents of some town or village with an incongruent or ridiculous name decided to change this name, it would be just their business. But Stalingrad is not just a town, but a hero city; city, "reversing the war" and forever entered into
history
; the city bearing the name of the Supreme Commander of the great war. Therefore, returning to the city on the Volga its historical name (and its historical name is the one under which it entered history - that is, Stalingrad, not Tsaritsyn, and certainly not Volgograd) - this is an extremely important matter of national importance, concerning not only future Stalingrad, but all Russian.
Therefore, there are two possible options: you can hold an All-Russian referendum on the return of his true name to the city on the Volga; and it is possible, in order not to spend extra money, to limit ourselves to a local referendum in the future Stalingrad and in the region. But in the case of only a local referendum, the future residents of Stalingrad must make the right decision and firmly say: "To Stalingrad - to be!".
The referendum itself could have been held in the fall, on a single voting day, but it could be later: the main thing is to celebrate the anniversary - the 70 anniversary of the great Victory, that is, to 9 in May 2015, Stalingrad again became Stalingrad. Let's hope that it will be so.