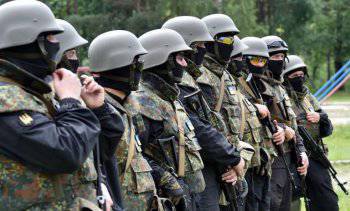 According to the
"RT in Russian"
, Ukrainian social activist Roman Martynyuk said that the Ukrainian army is completely demoralized by the actions of the generals.
"They fight their own against us. Merge information, demoralizing and destabilizing the military. Without providing the army with equipment, the generals make living targets of the army, "he wrote on his Facebook page.
According to Martyniuk, the training grounds where soldiers are trained before being sent to the east of the country "resemble a farce".
"Through the 5-10 days, the guys are waiting for relocation to Donetsk and Lugansk. They are not prepared to fight, they are prepared to die. Soldiers and officers do not bring approximate tasks, they are not provided with body armor and helmets. They are not prepared to create checkpoints, "the activist said.
It is worth recalling that Roman Martyniuk has already criticized the Ukrainian National Guard, stating that there is no discipline in its ranks, drunkenness is rampant, and the soldiers ignore the orders of the officers. In addition, the activist noted that among the volunteers are many epileptics, unbalanced and violent people who were given
weapon
without any verification.