Kosachev: The appearance of the US cruiser in the Black Sea is a challenge to the Russian-American negotiations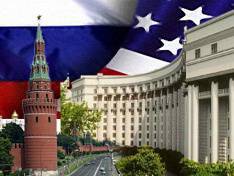 Chairman of the State Duma Committee on International Affairs Konstantin Kosachev believes that the actions of the American military raise many questions for Russia. As he stated in an interview with the Russian News Service, it is not just a military cruiser, "but about a ship equipped with the Aegis anti-missile system, which raises many questions from Russia."
"His appearance in the sea for us and Ukraine in general is a clear challenge to the negotiations that are under way and to the logic of Russian-American relations, which is defined by the word" reset ", he noted.
According to Kosachev, the appearance of a cruiser looks "excessive, redundant, undesirable and in some way provokes emotions and undermines the climate of trust between Russia and the United States."
In addition, he added, in connection with the arrival of "Monterey" in the Black Sea, Russia will wait for explanations from the Ukrainian side.
We will remind, earlier it was reported that the American anti-missile cruiser "Monterey" entered the Black Sea. The ship went into the waters of Ukraine in connection with the teachings of "Sea Breeze 2011". The Russian Foreign Ministry stressed that "we will not disregard the appearance in the immediate vicinity of our borders of elements of the strategic infrastructure of the United States and will take such steps as a threat to our security."
As Rosbalt reported, in the course of "Sea Breeze - 2011" representatives of 17 countries of the world - Azerbaijan, Algeria, Belgium, Great Britain, Georgia, Denmark, Canada, Kenya, Macedonia, Moldova, the Netherlands, Germany, Turkey, the USA, Ukraine, France and Sweden - will work out the actions of multinational headquarters and forces during the planning and conduct of an international peacekeeping operation.
The training consists of four stages: Stage I - deployment of forces (June 3-6). Stage II - basic training, co-ordination of peacekeeping forces (June 7-12), during which the crews of the ships will conduct training in communications, exercises in the struggle for survivability, training of the coastal component in peacekeeping training areas, parachuting from helicopters , underwater descents of divers, aviation flights. Stage III - conducting a peacekeeping operation by a multinational contingent (13-17 of June).
Ctrl Enter
Noticed a mistake Highlight text and press. Ctrl + Enter