The people's governor of the Donetsk region (DPR), Pavel Gubarev, in his microblog reports that on Friday and Saturday on Lenin Square in Donetsk, a concert will be held under the general slogan "Save the people of Donbass from the Ukrainian army." Meanwhile, Donetsk itself and other cities in the southeast are experiencing serious humanitarian problems. It is extremely difficult to deliver humanitarian aid to the cities besieged by the Ukrainian army and the National Guard under the cities of the LPR and DPR.
Alexander Boroday, acting as the Prime Minister of the DPR, states that for the delivery of medicines and food to the cities of the republic, one has to literally "gnaw" the corridors. According to "Rossiyskaya Gazeta" http://www.rg.ru/, the prices of essential goods in Donetsk and other cities in eastern Ukraine have increased.
Deputy Minister of the DPR on social issues Elena Korovkina:
Pharmacies have raised the price of medicines two to three times. Poor people cannot buy expensive medicines. And Ukraine is interested in not to miss humanitarian aid. Take the same insulin: it is problematic to provide them with patients. This is the result of the actions of the Ukrainian authorities. We are now expanding the range of our powers and are trying to defend the interests of the population. We hope (...) a humanitarian corridor will be created. Although, as recent events show, the Kiev authorities have no pity either for our children, or for the elderly, or for the disabled. Therefore, it is impossible to say with certainty whether they will allow to form such a corridor.
Russian regions collect and send humanitarian supplies to residents of the south-east of Ukraine. Humanitarian aid is collected in Nizhny Novgorod, Leningrad, Rostov and other regions of the Russian Federation, as well as in St. Petersburg and Moscow. Points of formation of humanitarian goods are open public and political organizations of Russia.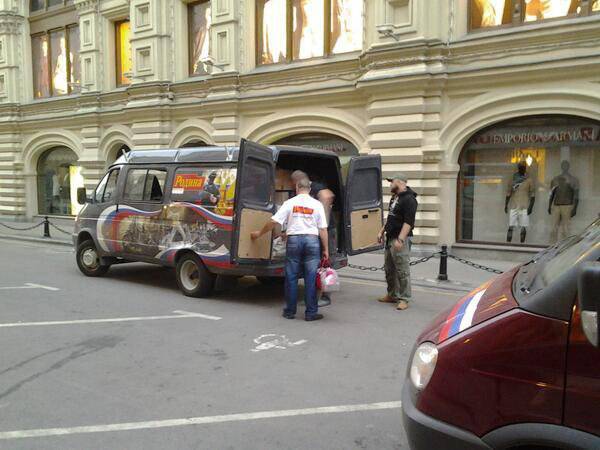 Kiev declares that in the south-east of the country the situation with the provision of the population with food and medicines is under the full control of the new "authorities" of Ukraine. Meanwhile, residents of Slavyansk declare that even water is not supplied to the city.