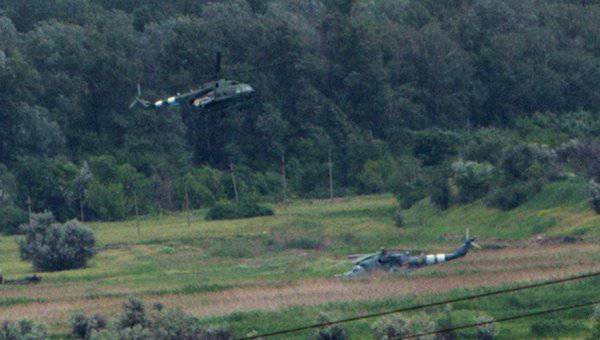 According to RIA
"News"
, 4 June representative of the militia Slavyansk said about the next Mi-24 helicopter of the Ukrainian army, which managed to incite militias.
"Two helicopters circled around the roadblock at the plant. We fired at them from anti-aircraft installations, one was shot down, "a spokesman said.
According to him, the helicopter began to smoke and "sat down hard" in the area of ​​the roadblock. Information about the extent of damage to the car and the condition of the crew has not yet appeared.
3 June, the militia of the Donetsk People's Republic reported that they managed to shoot down a Mi-24 helicopter near the village of Semenovka. At first, the Ukrainian military denied this, but later the head of the ATO press center, Vladislav Seleznev, confirmed that two Mi-24 helicopters were damaged in the combat zone, noting that the crew was not injured.
According to local residents, today the Ukrainian security forces have resumed shelling the city.
"The situation is very difficult for us. The enemy constantly uses airplanes against us on an 2-3 attack aircraft at once and on 6-7 attack helicopters. The Hurricanes Division is on its way to us, and according to Semenovka, Grad was already working today. The number of self-propelled and conventional howitzers of caliber 122-mm and above has long exceeded fifty, and I don't even consider mortars. The enemy's goal is to close the ring around Slavyansk once and for all, "the militia commander Igor Strelkov said.
According to official data, two Ukrainian soldiers were killed during the 3 fighting in June, and 42 were injured. Representatives of the press center of the ATO also said that the militia had lost about 300 people.