Russian Foreign Ministry: airstrike in the center of Lugansk - another crime of Kiev against its own people
Press office
Russian Foreign Ministry
published a statement of the Office in connection with
Avianapad on Lugansk
in which the incident is called the next crime of Kiev against its own people.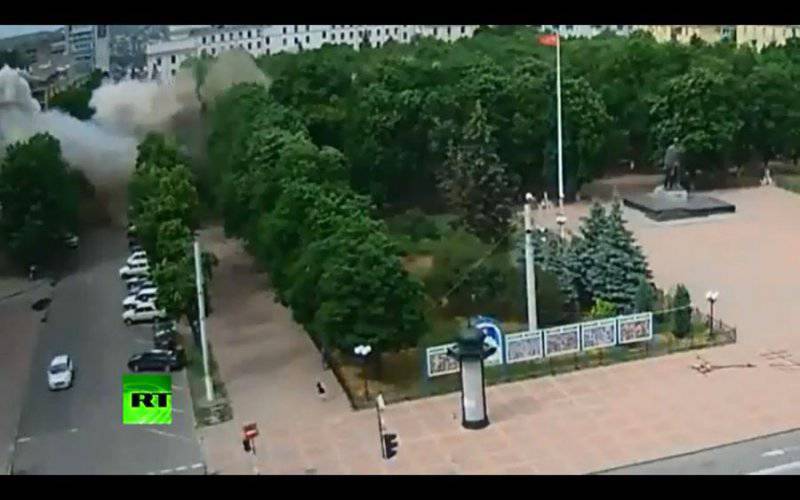 "On June 2, the Kiev authorities committed another crime against their own people. As a result of the shelling
aviation
the armed forces of Ukraine, the building of the Lugansk Regional State Administration killed civilians of Ukraine, the ministry said. "Kiev once again flagrantly violated the agreements agreed upon in the Geneva statement on April 17 and developed in the" roadmap "of the Swiss OSCE chairmanship."
According to the
"RT in Russian"
Vladimir Inogorodsky, head of the press service of the Luhansk People's Republic, also said that an airstrike on the center of Lugansk is a war crime.
"Today's attack is a war crime. I myself was a direct witness of this attack, saw the planes that came in and saw the shooting, "he said.
ITAR-TASS
.
According to him, as a result of an airstrike on the building of the Lugansk Regional State Administration (RSA), Natalia Arkhipova, Minister of Health of the LPR, died. Inogorodsky also noted that "the total number of victims is now five people."
Meanwhile, as noted
"RT in Russian"
, Kiev continues to assert that the militia itself fired on the building of the regional administration "accidentally". "The most likely cause of the explosion was careless and inept handling of small
weapons
and explosives, "said ATO press officer Alexei Dmitrashevsky.
Representatives of the central board of the Ministry of Internal Affairs in the Luhansk region stated that a shot was taken from the USU building at the aircraft from the anti-aircraft complex, but the rocket changed course, reacting to heat from the air conditioner in the window of the administration building. According to law enforcement officers, the version of the shot from the building of the UBSU is confirmed by eyewitnesses.
Meanwhile, a message appeared on Twitter DNR that fragments of the C-8COM rocket were found near the building of the regional administration of Lugansk.
According to RIA
"News"
, State Department spokeswoman Jen Psaki said that the US has no evidence of who is responsible for the use of combat aircraft against Lugansk civilian facilities.
"We are still collecting information. I know that there are conflicting reports about who is responsible, "she answered to the question of whether the White House is concerned about the deaths of civilians and significant damage in Lugansk.