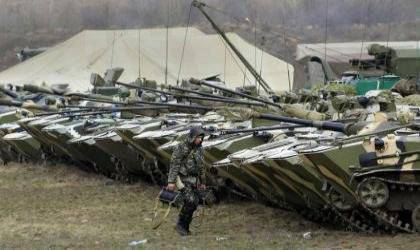 The fact that NATO does not go for direct military intervention in the Ukrainian crisis, it became clear quite quickly. At the same time, in the West they do not want to put up with the situation in which a significant part of the Ukrainian population chooses the path of integration with Russia. The punitive operation of the Kiev authorities in the Donbas is carried out with the full support of the leading Western powers. And the only question is what these powers are ready to help their Ukrainian henchmen in suppressing the unresolved Novorossia and how this will influence the development of events.
At the moment, economic sanctions against Russia, which are considered by the West to be involved in decision-making on Ukraine, are in force against Russia. There is a threat of harsher sanctions against entire branches of the Russian economy. But, first, such sanctions will be possible to introduce only if Russian troops enter the territory of Ukraine, which Moscow does not plan. Secondly, the Europeans, knowing full well that these sanctions will hit Europe with a boomerang, they will not necessarily agree to them. And, thirdly, even if the sanctions are applied, their result will have an effect only after a few years, that is, they will not work as a tool for suppressing New Russia. Therefore, it is, first of all, military assistance.
This question began to be discussed almost immediately after the coup in Kiev. In mid-March, Arseniy Yatsenyuk, arriving in America, asked Obama
weapon
and intelligence information. Obama then politely refused, offering American dry rations instead. In March, the United States delivered 330.000 sucker rations to Ukraine, which, we note, immediately appeared on the market. On April 14, adviser to US Secretary of State Thomas Shannon, while visiting Germany and answering a journalist's question about whether the United States would supply weapons to Ukraine, replied that this option was being considered. 15 April John McCain, while in Estonia, attacked the US government with harsh criticism for not having provided the Ukrainian army with everything necessary. Among the necessary McCain called night-vision devices, light weapons, anti-tank weapons and air defense systems. The inability of America to help Ukraine McCain declared shameful and threatening the security of Europe.
April 17 on the same issue, said US Defense Secretary Chuck Hagel. At a joint press conference with Polish Defense Minister Tomash Semonyak, he said that President Obama had decided to allocate additional amounts of non-lethal military assistance to Ukraine, including medicines, helmets, mattresses, water purification equipment, tents, generators and fuel pumps.
15 in May in the Wall Street Journal published an article by the secretary of the National Security and Defense Council of Ukraine, the former commandant of the Maidan, Andriy Parubiy, entitled "Ukraine needs immediate US military assistance." This article says that Ukraine does not need the US military to conduct hostilities, but it needs American weapons. Paruby complains that the new Ukrainian authorities inherited from the old half-ruined army, security and intelligence services, which are teeming with Russian agents, demoralized law enforcement structures, corrupt courts and the prosecutor's office. Paruby, like McCain, talks about anti-tank weapons, air defense systems and night vision devices, and also about body armor.
The newly elected president of Ukraine, Petro Poroshenko, spoke of American military assistance in his very first interview after the elections. The interview was given to the Washington Post newspaper, and in it Poroshenko called on America as much as a new Lend-Lease. According to him, Ukraine and the United States need to conclude a new security agreement. Lip Poroshenko, as we see, is not a fool.
27 in May, the Wall Street Journal published an editorial article, "Ukraine Chooses the West," which states that with the election of Poroshenko as president for the United States and Europe, the last reason to refuse to provide military assistance to Ukraine disappeared. Say, how is this even possible at the moment when France sells the Mistral helicopter carriers to Russia? On some trifle like the fact that France sells helicopter carriers to Russia for money and a lot, and the Wall Street newspaper proposes to supply the Kiev regime with everything they need for thanks, the authors of the editorial do not pay attention.
29 May asked how Obama responded to Poroshenko's request for a Lend-Lease question was asked at a briefing by State Department spokesman Jennifer Psaki. She replied that the president approved three tranches of assistance to Ukraine and continues to consider requests from the Ukrainian side, but the issue with the supply of arms remains unchanged. In other words, fight boys, for now.
What can you say about this? The White House does not want to send American troops to Ukraine, realizing that Obama will not forgive the US citizens, but at the same time does not want to completely lose influence in Europe. And then it comes to the supply of weapons. After all, American mercenaries in Ukraine are already fighting, and this is a much deeper level of involvement. In his speech to 28 graduates of the Military Academy at West Point on May 9, Obama said bluntly that equipping and training the Allied Forces is a priority of American military policy, as it allows America to solve its tasks without a direct military presence.
The question remains who will pay for all this. With all the money now is sparse. About how sparingly and how everyone is trying to push off the financial burden, says at least
story
with the same "Mistral". The United States does not want France to transfer ships to Russia. In an article in Foreign Affairs magazine, American political scientist Michael Moran recommends shaming France for a start. Say, how can you sell weapons to the aggressor? Yes, spit on billions of dollars in sanctions, losses, loss of jobs.
US Democratic Congressmen Eliot Angel and William Keating, as well as head of the US delegation to the NATO Parliamentary Assembly, Michael Turner, suggest a different move. On May 30, they appealed to NATO Secretary General Anders Fogh Rasmussen with a letter asking NATO to buy a ship from France or rent it. The request is more than ridiculous. It would be clear if the US president addressed the French president and said: "Sell this ship to us for the same price. We will compensate the penalty to you. " However, even such a proposal would be unacceptable for France, which has extensive economic interests in Russia besides Mistral, and understands that in the event of a contract breach, these interests will inevitably suffer. Nevertheless, such a move would be somehow understandable, and here it is not clear who is referring incomprehensibly to whom. After all, NATO does not procure weapons, the member states, which then equip their troops allocated to NATO with weapons. So the message of Angel, Keating and Turner is just an imitation of activity. But in this case we are talking about the NATO bloc. To understand who will finance Lend-Lease for Ukraine is generally impossible.
In conditions where there is a lot of noise around the US military aid to Kiev, and no one wants to pay for it, there are suspicions that the Atlantic allies will try to turn things around so that Russia will pay. For example, they will try to get gas concessions from Russia, new delays, discounts, etc., and send the money saved for the purchase of weapons. You can also promise to defuse international tensions or something just as vague. It is possible that the first trial balloon will be launched already on June 2 at a meeting of the Russia-NATO Council.