Short truce. Death live
The declared truce between representatives of the people's militia of the Lugansk People's Republic and Ukrainian border guards did not last long. Reportedly
Interfax
Armistice agreements were reached on Monday afternoon. The main goal - the removal from the scene of the fighting of the wounded. After about 20 minutes after the start of the truce, the removal of the wounded was completed, and the shooting in the LC was resumed again.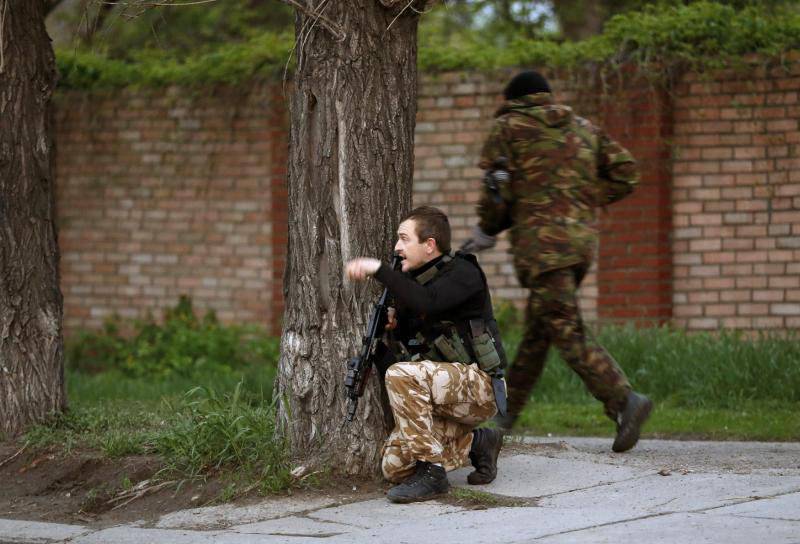 According to the press-secretary of the Ukrainian State Border Guard Service, Oleg Slobodyan, 11 Ukrainian border guards were injured during clashes of varying severity. Of these, at least four are badly wounded. In Lugansk militia declare that these figures are understated. At the headquarters of the LC, they say that five of them were killed during the fighting and another 8 people were injured.
The assault by representatives of the Lugansk militia of the Ukrainian border detachment began on Monday night. Kiev reported that the attack on the border guard to participate 500 «militants» (the so-called representatives of the Kiev junta militia).
The representative of the headquarters of the so-called ATO say that Ukrainian
aviation
managed to destroy two mortar calculations of the militias. Vladislav Seleznev (ATO headquarters) cites
Lugansk site
:
As soon as aviation began to work, the militants began to hide in houses, and returned to positions as soon as the planes departed. However, military aviators managed to destroy two mortar calculations and enemy equipment.
At the same time representatives of ATO themselves - Ukrainian punitive - hitters of artillery shells at children's hospitals and schools, the fighters of course not known.
volunteer Death (author of the publication video calls him "a terrorist"), who tried to observe the progress of the battle, hit the frame (the video may be removed from Youtube):