Rosoboronexport is leaving the European arms market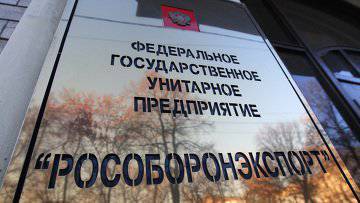 According to the
ITAR-TASS
With reference to a source close to the organization of advertising and exhibition activities of Russian special exporters, Rosoboronexport refuses to participate in European arms exhibitions, switching to exhibitions in the Asia-Pacific region, the Middle East, Latin America and Africa.
"In connection with the Western sanctions against Russia, it was decided to reorient Rostekhnologii, Rosoboronexport and enterprises-special exporters to military-technical exhibitions in other regions of the world, where the Russian
weapon
is in high demand, "the agency source said.
In particular, the Russian presence at the largest arms exhibition Eurosatory-2014, which will be held from June 16 to 20 in Paris, has been reduced. "This, first of all, concerns the reduction to the minimum of full-scale exhibits of the latest Russian weapons, which were planned to be presented at the Eurosatory-2014 salon," the agency's interlocutor noted. Russia will not bring the latest support combat vehicle to Paris
tanks
BMRT-72 "Terminator-2", which was recently shown in Astana in the framework of the exhibition "Kadeks-2014".
According to the editor-in-chief of the French part of the official exhibition magazine Show Daily, Jacques de Lestapy, he has only one application for advertising from participants from Russia, submitted by the Kalashnikov concern. "This has never happened before," he noted.
Earlier, Mikhail Pogosyan, President of United Aircraft Building Corporation, OJSC, announced that UAC would not be lucky to get samples of military aircraft at the Farnborough-2014 London Air Show, which will be held from 14 to 20 in July.