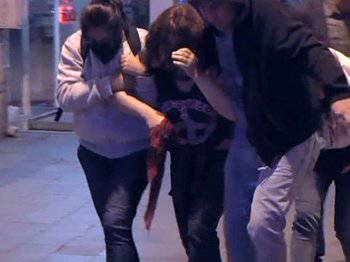 According to the information agency
"Vesti"
, Istanbul, Ankara and other Turkish cities began riots.
In Istanbul, police used water cannons, batons and tear gas to disperse an unauthorized rally marking the anniversary of the protest in defense of Gezi Park in 2013. Helicopters appeared over the city. Demonstrators threw stones and Molotov cocktails at law enforcement officers. There are reports that demonstrators in the Sultangazi area fired police with pistols. City streets are blocked, the work of public transport is suspended, tourists are asked to stay in hotels.
On Saturday, Prime Minister Erdogan warned demonstrators that any attempt to organize a rally in Taksim Square would be severely suppressed. As a result of last year's protest against the felling of the Gezi Park and the demolition of the Ataturk Cultural Center in Taksim, several people were killed and thousands were injured. Turkish authorities do not want a repetition of street battles and mass unrest, especially before the autumn elections.
"The demonstrators said they would come to the rally at Taksim Square. I tell them directly: the police have an order to disperse this meeting. Sorry, but the order is the order, the police will use all available means. We will not allow another rally in Taksim Square and a repetition of last year's events, "said Turkish Prime Minister Tayyip Recep Erdogan.
However, the demonstrators ignored the premier's demand. On Saturday, thousands of people gathered on the square, chanting: "Taksim is everywhere!", "Taksim is only the beginning!".
During the clashes suffered more than ten people. About 70 people were detained. Protests were also held in Ankara and Adana. Moreover, the protesters are increasingly demanding the resignation of the government and a change in the political course.