According to the Ukrainian TV channel "1 + 1", half of the dead were in the service of the armed forces of Ukraine. So, under Volnovakha, 17 fighters of the 51 th mechanized brigade were killed. Another six died near Kramatorsk, being ambushed, reports
RIA News
.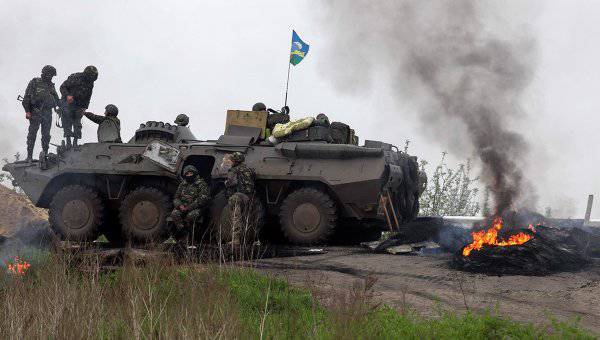 During the special operation in eastern Ukraine, more than 50 Ukrainian security forces died - the military, law enforcement officers and soldiers of the Donbass voluntary self-defense battalion, the Television Service reported on Friday
News
Ukrainian television channel "1 + 1".
According to the channel, half of the dead were in the service of the armed forces of Ukraine. So, under Volnovakha, 17 fighters of the 51 th mechanized brigade were killed. Six more died near Kramatorsk, having been ambushed.
The Ministry of Defense of Ukraine does not report the exact number of victims.
The Ministry of the Interior has lost about 30 its fighters. 12 of them died on Thursday in a helicopter, which militiamen shot down near Slavyansk.
Five representatives of the Donbass volunteer self-defense battalion also died.
There are among the Ukrainian military and missing. According to those who have already returned from captivity alive, dozens of security officials are in captivity with the militias of the self-proclaimed Donetsk Republic.
Since mid-April, the Kiev authorities have carried out a special operation in eastern Ukraine in order to suppress the protest movement, which arose as a reaction to the coup d'etat that occurred in the country 22 in February after many days of clashes in the center of Kiev. Active hostilities were suspended during the May 12 presidential election of 25. However, 26 may have resumed.
Petro Poroshenko, who won the last presidential election in May 25, demanded that security officials hold a "sweep" of the territories of Donetsk and Lugansk regions before his inauguration, where in early April the creation of "people's republics" was announced that declared their independence on the results of 11 referendums in May.
In Moscow, a force special operation in the east of Ukraine was called punitive and urged Kiev to immediately stop it.