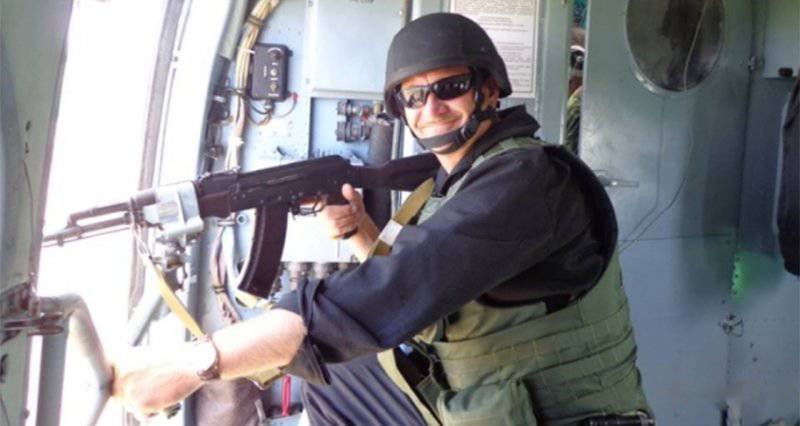 On Thursday, a Mi-8 helicopter was shot down under Slavyansk, carrying aboard, according to various sources, from 10 to 14 military. Immediately after the emergency, it was reported that every single one died. But later it turned out that one of the Ukrainian military managed to survive. In the wrecked helicopter, the National Guard under 51-year-old Sergei Kulchitsky, who had been in the east for more than a month, also died. "He was not a cabinet officer, always with his guys in the field. I went to the Donetsk region with the 1-m reserve battalion. Previously, he was directly responsible for their preparation and fees for the ATO, - told the press service of the National Guard. - His shift in the east ended, and on Friday he was supposed to return to Kiev. But it was not destined ... "His colleagues say that he was militant. He graduated from the Ussuriysk Suvorov School, then the Murmansk School (marine). Interior Minister Arsen Avakov on his page on the social network wrote that his soldiers from the reserve battalion of the National Guard under applauded the general. "I was just stupefied and glad. Maydanovtsa clapped to the general of the Ministry of Internal Affairs! "- Avakov wrote.
According to one of the officers of the SBU, it was Kulchitsky who was hunted, Kulchytsky was a dangerous rival, he gave a tough response, despite the orders of his leadership to be cautious.
In March, in Ukraine, the authorities formed the National Guard, in which they decided to join the military groups of the Maidan to the military. The correspondent of "RR" visited the first training session of "Self-defense" at the military base and met with a very high-ranking Ukrainian officer, who spoke about readiness for war and terrorist attacks. Then he asked not to ask his name and what he commanded, just call him - an officer.
Now we will publish this interview having already named our interlocutor General of the National Guard Sergei Kulchitsky.
In a few minutes, the conscripts hand over to my table a pack of cookies and a bar of 56 percent chocolate. I turn around. A hundred crowded at tables designed for four, the six of us. Balaclava hold on his knees. Some people smile uncertainly, looking at the backs of conscripts, on which white says "Militia".
- You are invited to a high military rank, - says Andrei. "He wants to talk to you, but he will not give his name." You will have to return to Kiev.
Andrei and I are returning to Kiev in a car that was sent for me by a high military rank. Andrey stares at the road intently, smoothing his short-cropped hair with his hand and never ceasing to instruct me.
- Do not ask what his name is and who he commands. You yourself must understand what time it is and what the conversation with you threatens him with. You can write that you have just been based on Barça, but don't write anything else. Call it simple: officer.
In the office of the officer felt emptiness. His chair is empty. He himself is waiting for me, sitting at the table for guests. On the table is his cap. Above the chair is a bare wall, or it seems so from the habit of seeing portraits of leaders and presidents in the offices at this place. On the side of the officer, Andrew sits down and almost touches his cap with his elbow.
"We were all united by one thing: we had a very dishonest president," says the officer, explaining with his introduction what sits at the same table with Andrew. "A dull, uneducated convict." You have a bad president too, he adds. "But at least he is an officer with a cleaned biography." And our biography is very bad. But when they came to me and said: "Go out to the barricades and say that you quit, throw a cry so that other officers join you," I replied: "So you want to make a traitor out of me? And then what will you do with me - with such a good one? "
- What is betrayal for an officer?
- Well ... you see ... it hurts me a lot when they make me take the second or third oath. I did not take the second oath in Ukraine after I swore an oath to the Soviet Union. I developed such an idea in myself to somehow live with all of this. The first time I swore to protect my homeland. My homeland was large, Soviet, but then by the will of fate it became small — Ukraine. I swore an oath to the people and am still faithful to her. And today ... Do you want me to take the oath every day? When I was a young officer, this was impossible for me.
- And to whom do you want to give every day a new oath?
- And whoever you want ... You want that power. Want - this. Tomorrow another will come - I will give another. The main thing that it was not the same as the previous one. I have not been so principled for a long time.
- Like this?
- Like this?! Like this ... That's it! But ... I think that now I no longer need to swear to anyone. What is the point? I already serve the people.
- And what do you think about those soldiers who went over to the side of Russia in the Crimea?
- I would not dare to give the oath to another state. Why does another state have a traitor officer? To throw it away like used rubbish? Although ... well, probably, I don't belong to them. But in general I think that this is treason.
- Without excuses?
- Now everything is so ... - he holds his breath, - unfairly, - exhales, - that to die for this, maybe you should not? Maybe ... But although, if you think about it ... I thought for a long time about how in Afghanistan most of our people, in order not to be captured, shot. When I was young, I thought so. But now I think: it would be better to give up.
- You started to think so after you got your high rank?
- Yes. I immediately put myself in the shoes of their mothers. Now I have been given the submission of these people from the Maidan. And we immediately ... a strong misunderstanding of each other. They saw me as an enemy initially. They say: "We do not need anything from you, just give us
weapon
, and we'll go even today, lie on the border and shoot at Russian
tanks
". Patriotism is very high, "he says, glancing sideways at the commandant of hundreds. - And I said: "Excuse me, but I do not want to be the head of the funeral team. I don't want to draw tridents of heroes on your crosses ...
"The heavenly tridents of a thousand," Andrei assents.
"... I don't need your heroism if you are dead," the officer continues. - No one needs dead heroes. My task is to prepare you so that as many of you as possible survive. "
"It's hard to believe that people from Maidan could accept this help from you," I say, "that they began to carry out your orders." You are their enemy. And for the right to hate you, they seem to have paid in blood?
- I saw that they hate me and consider me an enemy. But no one knows what thoughts I live with ...
- What thoughts do you live with?
- All Ukraine was united by the fact that its president was a crook and a snag. Yes, we guarded these crooks ... It was morally very hard to do our job. But I stood guard over the law. I understood that we do not have one leader and we will never choose a new president for ourselves by one hundred percent vote. It means that there was no other way ... We, the officers, were taken there, on the Grushevsky street - to stand in the ranks. And once we came there, the colonels will not hide behind the soldiers, so that you, the journalists, will twist everything again. I ordered to stand in front of the conscripts. And he himself, so that no one bzikal nothing, generally came forward. I got a call from friends: "Is that you standing there?" - "I Do you drive wheels there? "-" We ". - "Hey, put a little bit to the right so that the smoke would not come at us."
- You forgive me ... but now everyone says so. And so you talk, do not change the power?
- It is very difficult for me to understand myself what I would say ... You will now write what I said, and for me it will be a complete zvizdets. Can you not write all this? I told you the truth, but you yourself know how true it is.
- No one has any doubt that they will vote in the Crimea for joining Russia. Could this trigger a war? - I ask, and Andrew twitches.
"You cannot ask such questions to the military," he says. "He can only carry out the commands of the commander in chief."
"We all understand," reluctantly says the officer, "that your president is crazy. Your president is bad. Do you agree?
"She won't say that," Andrei stops him. - She has already stated at the Barça base that she has a principle - not to abuse her country in our presence.
- And we, therefore, can blame her? - the officer looks at me with condemnation. - You are afraid of Putin.
"So be it," I reply.
"Tell the truth if you want us to be frank with you," insists the officer.
- The truth is that there are many of you here, armed men, and I am a woman among you, and I am alone. The easiest thing to say now is that our president is bad to make you happy and to endear himself. But I believe that such criticism is possible only within the country. There it will not bother me to say what I think about Putin. But not here and not now.
"I like this position," the officer agrees. "Then we'll talk further ... Putin now has a high rating due to the fact that he raised an army." The army is creating an image for him now. But soon your president's rating will drop very much. Ukrainians are good warriors. It is difficult to say which tactics we choose. In war, any good. If only our soldiers remained alive, and yours died. At the duel, we are not going to fight for sure, but we will wet you in the toilet. And on your territory too. All means will be put into operation. Your stations will be torn. Why are you looking at me like that? Don't look at me like that. And why did you come to us? Putin will not win this war, and he will understand this as soon as he starts conducting military operations. And I will not care which of you to kill: civilians, non-peaceful. Why should I feel sorry for you? Don't you want to regret my mom?
- What could be the reason for the start of hostilities on your part? Crimea joining Russia, for example?
"He cannot answer this question," Andrei twitches again. - Who will announce the results of the referendum? There is dissolved parliament.
"I am a military man," says the officer. - And if tomorrow it will be necessary to fight, I will fight. If you think that the Russian boot will walk in Ukraine, then ... it will not walk. If you suddenly consider Crimea to be Russian, I do not rule out that underground terrorist activity will begin there. I do not believe that America, Europe or England will save us - on the contrary, they will do everything so that we may fight among themselves. I just do not understand Putin ... Why is he such a ram? Why, instead of strengthening relations with Ukraine, is he trying to put us on the role of a smaller brother? He believes that, having humiliated the Ukrainian people, he can become a great autocrat ... I hear, Comrade Commander-in-Chief, "he lifts a thinly vibrating handset. From her a clearly audible voice. The officer shows me his hands - close your ears. I close my ears.
"I've watched hundreds of fighters," I say when he hangs up on the table. "They are undisciplined, and they have not stopped hating you." Do you think you will be able to bring up real soldiers from them?
"I myself, when I joined the army twenty years ago, was cheeky and ..." begins Andrei.
"You did not come into the army from Maidan," I stop him. - And hundreds of men believe that they overthrew the regime.
"I will do everything to make them good soldiers," the officer says, and moves toward me. He puts his elbows on the table and without blinking looks into my eyes. "I already showed them how to kill you." I already told them: "Guys, you can't fight like that. Muscovites will strangle you all. " We will have a lot of heroes, but not posthumous ones. And I am grateful to the Soviet Union that he taught me military affairs. I was a good Soviet officer. And the experience in Afghanistan shows: they are heroes from Maidan, but in the conditions of a real war they are helpless children. They will immediately stick to the commander, who will clearly and confidently give them commands.
- What are you talking about? You saw these people who stood on the Maidan for three months. They are exhausted and exhausted - I do not give up.
- They just went through a medical examination! - says Andrei.
- And the sailors were strong? .. Listen to me ... I come from those places where they fought until the fifty-sixth. My grandfather served eight years, - the officer takes a pen from the table, draws a figure eight in an open notebook, circles it many times and makes a hole in it. - And another grandfather came to Berlin. And I have been thinking all my life: which of them was right?
"And everyone was right," says Andrei, "both of them." It was such a time ...
- What is the officer's heart? - I ask.
"Hard," the officer says.
"We had Beslan," I say, "we had a lot of other terrorist attacks." Terror is black evil. Explain to me how you, a former Soviet officer, can now sit like this, look into my eyes and justify terrorism?
The officer blinks, dropping his bright eyelashes over his eyes. When he opens them, they turn blue from gray.
- And what should I do, tell me? I should not kill you, because you - what?
- People.
- And we?
- And you.
- Well, tell your Putin, let him build friendly relations with us. Otherwise, we will poison your wells. We will fill you with some muck in the water. We will destroy you in toilets. I will do it. I will kill you in cold blood. I will send fighters, I myself will not go. You behave dishonestly. When you say that you gave us the Crimea, you are silent that you received the Belgorod region in return.
- I understood why you called me. You want through me to bring this message to Russia. Right? - I ask.
- So, you guessed it. Yes, I want you to be afraid of us.
- But the problem is that you do not inspire fear. I know that you will not do anything of this, I say, getting up.
- Sit down! .. Sit more. Let's talk. Hmm ... Most officers are obsessed with their service. At ninety-two I returned to Ukraine. I did not want to leave, I really was a good officer. I was sent three times to get an early title, and three times they refused me. Do you know why? - he snaps the cap of the pen. - Because I am Ukrainian.
- It is strongly reflected in your heart?
- Of course ... And then they advised me: you put two bottles of brandy, and we will write that you are Russian, and in two weeks you will have the title. Do you know how much two bottles of brandy cost? Twenty rubles. Do you know what my salary was? Five hundred rubles.
- You agreed to write: are you Russian?
"Nooo ... I was asked:" What do you want? "I answered:" I want to go home. " Where I will be awarded the title ". I returned. My salary was twenty seven dollars. Summer came, and my wife did not have summer clothes. We went to the market, she chose a silk blouse for herself, and I also liked it. I gave all ... all my salary, - he removes his elbows from the table and moves away from me, his eyes closed. - She walked in silence at first, then as a roar. "What are you?" - "And how are we going to live?" ... I am now called by my ... Russian officers: "Well, what are you going to do there?" - "Yes, we are going to drown you!" Laugh: "Well, you, brother, give! "
Andrei and I are leaving the office in order to have time to return to the Barça base. We leave the officer at the table - flushed and, apparently, with a disturbed heart.