A solemn ceremony of taking the oath by new officers of the Ministry of Internal Affairs of Russia took place in Strogino. Former fighters of the Ukrainian "Berkut" are now part of the Moscow riot police at the invitation of the Russian authorities. An invitation to Berkuts from the Russian leadership came in connection with the events in Ukraine: the actual disbandment of the "Berkut" and the institution of a series of criminal cases against special forces soldiers in this state.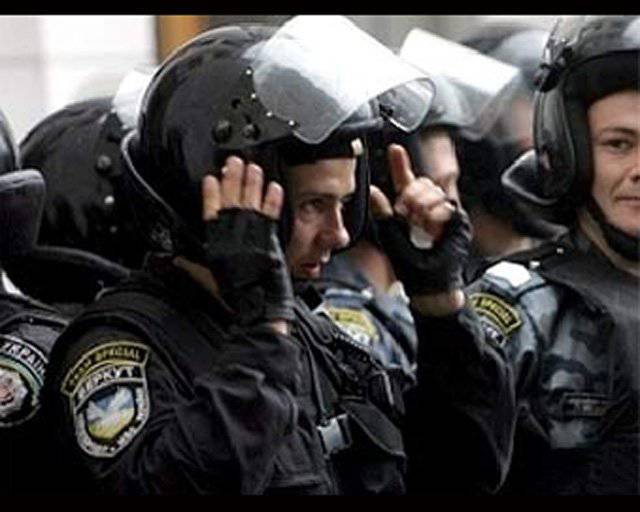 TV channel
LifeNews
quotes a fighter who takes the oath:
I, Anokhin Alexey Viktorovich, intercede on the service in the internal affairs bodies. Solemnly swear allegiance to the Russian Federation and its people. I swear in the exercise of the powers of an employee of the internal affairs bodies to respect and protect the rights of a person and citizen, to faithfully observe the Constitution of the Russian Federation and federal laws. Be courageous, honest and watchful. Do not spare your strength in the fight against crime. To fulfill my duty and responsibilities assigned to me to ensure security, law and order. Keep state and official secrets. Serving Russia, serving the law!

Shoulder straps (corresponding to the existing ranks) and certificates to new employees of the Russian Ministry of Internal Affairs were personally handed over by the Minister of Internal Affairs Vladimir Kolokoltsev. He is quoted
RIA News
:
Today ten new employees have joined our ranks. I am sure that after a while for many of you they will become not only just colleagues, but also good friends. You are, indeed, a worthy replenishment, true professionals, who have shown courage and responsibility in a difficult, even tragic situation.
The press service of the Ministry of Internal Affairs reports that the ex-berkut people who arrived along with family members in Russia have already received temporary accommodation (mainly in the dormitories of the department), the necessary documents are being drawn up.