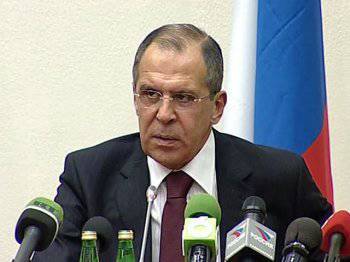 Russia is not taking part in the negotiations over the conditions for the possible resignation of Libyan leader Muammar Gaddafi and providing him with any security guarantees, said Russian Foreign Minister Sergei Lavrov.
"We do not take part in negotiations for any immunity, guarantees. This is not part of our efforts," he said in an interview with Bloomberg. The Minister stressed that this question should be asked to the Libyan people, the coalition and the African Union.
He clarified that Russia is also irrelevant to the discussion of the country to which Gaddafi may go, and guarantees against international criminal prosecution. "Russia does not discuss this. We are not discussing any details of the guarantees that can be offered to it," the Russian minister said.
He recalled that at the summit in Deauville Russia was asked to mediate in certain aspects of the Libyan situation. "It was not our initiative. It was a request, an appeal from President Sarkozy, President Obama, and other participants (the G8 summit)," Lavrov said.
At the same time, he stressed that even before that Russia had not stood aside, reports Interfax. "Over the past few weeks, we have actively supported the efforts of the African Union, the special envoy of the UN Secretary General, Mr. Khattyb. To support these efforts, we spoke with various parties," he said.