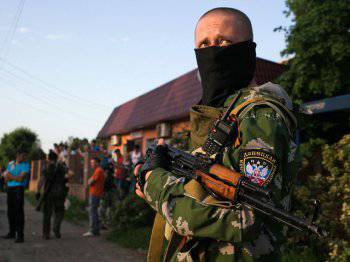 According to the information agency
"Vesti"
, with reference to the representative of the press center of the Southeastern Front Sergei Veselovsky, four Europeans were detained in the Luhansk region, allegedly from among the observers of the OSCE mission.
"Our militia yesterday, near the city of Severodonetsk, detained a group of four people, presumably they are OSCE observers. All four are citizens of European states, "Veselovsky said, adding that the group was" completely shameless "moving around the territory of the region, without notifying anyone.
It is worth noting that OSCE observers have been detained for the second time. 26 May in the Donetsk region militia detained citizens of Estonia, Turkey, Switzerland and Danish nationals.
According to the representative of the headquarters of self-defense Slavyansk, they can be released on Friday. "We suspect them of intelligence activities." If this is not confirmed, tomorrow they will go home, "he said.
The US authorities have called on Moscow to use its influence to release the detained OSCE observers.
In turn, Russia's permanent representative to the UN, Vitaly Churkin, stated that the main responsibility for the security of OSCE observers lies with the host country.