When instead of brains TV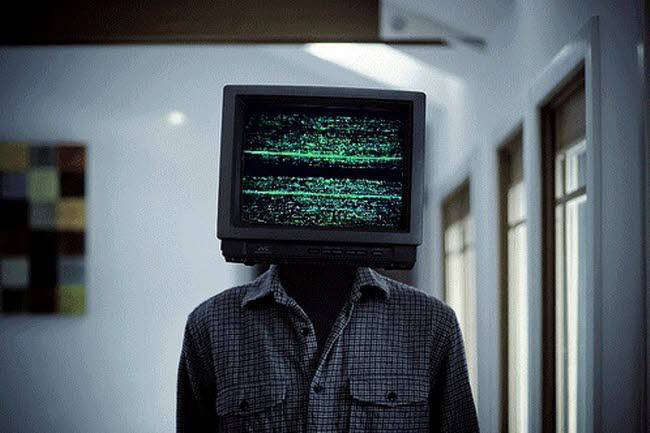 Let's look at the facts. Yanukovych said that the need to postpone the signing of an association agreement - and Mustafa Nayem began the Maidan. The oligarchic media in every way fanned this movement, which initially ranged from 100 to 200 people (of which half were people's deputies from the opposition). Yatsenyuk said that it was necessary to postpone the signing of the association agreement - and nothing happened. All media said it was a reasonable move. Poroshenko said that the need to postpone the signing of an association agreement - and the media wrote that he did not say that.
You guys are driving the television. He tells you what to do and what not to do. How to evaluate this or that event. He tells you what is good and what is bad. And you joyfully believe, listen and obey.
Poroshenko in Ukraine in Ukrainian said that he would sign an agreement immediately after the inauguration (somewhere around June 10-12). But on the same day, an article appeared in English in the Wall Street Journal, which states that
a) it was planned to sign on June 27;
b) at a meeting with Rompuy and Barroso, Poroshenko asked for a delay in signing. There is an obvious lie and hypocrisy on the part of only the "elected" president. And it's still he didn't take office, and then what will happen when he comes to taste?
You said that Yanukovych was an oligarch, but he was "chosen" by another oligarch. Are you satisfied with this? Why? Because "experts" on TV say it's okay?
I write "chosen" in quotation marks, because large-scale frauds in these elections are obvious to any sighted person — starting with an unreal turnout and ending with photographs of bundles of thrown (or, rather, carefully nested) ballots. But you are not outraged by the falsification of the elections, because the TV did not tell you to be outraged.
And with what joy Poroshenko's rating, three months ago, the former below the plinth, suddenly exceeded 50%? Because so you said the media, broadcasting the fake results of polls.
Let's go further. When on Maidan they beat "onizhedetey" from among football fans, then your indignation knew no bounds. Why? Because the TV told you that it is outrageous. You came out in tens of thousands in many cities. When, under doubtful circumstances, one person died, you were brutalized, demanding revenge.
But when in the Donbass as a result of shelling and raids
aviation
dozens of civilians die and several really small children have died - from 4 to 10 years old - you are not outraged. You shout and write in social networks "More corpses! More violence! " People, what's wrong with you? Why did your estimates of dead children change 180 degrees? Because the TV told you to react like that? Maybe it's time to turn on your own brains and remnants of conscience (who has it)?
Are you surprised that the residents of Donetsk and Lugansk revolted? The reason is very simple - they are outraged that their opinion (and now life) is worth nothing to you. Why are they pro-Russian? Because the Russians are worried about their lives, health, and well-being, while the Ukrainians are shouting "kill the quilted jackets!" Why don't they want to live with you in the same country? That is why.
Moreover, it is they, not you, who are the true patriots of Russia. You agree to surrender the sovereignty of Ukraine. You want to go to Europe from here, and they want to live and work on their land (and if the Euro-Association is signed, almost all of the industry in the Southeast will be destroyed, and in Dnepropetrovsk with Zaporozhye, too).
Maidan was used and now they are trying to throw it away like a used condom. Pedalik Klitschko the other day once again tried to do it. And all those who are dissatisfied are sent "to the eastern front" without armor and supplies — for slaughter in order to get rid of extra mouths (remember the words of Thatcher about 15 millions?).
The most important thing is that you do not mind Poroshenko and Yatsenyuk to introduce foreign ministers to all ministries who will command these ministries. This, my little pseudo-patriots, is called the occupation administration (you will laugh, but judging by the nationality of most of them, this is the very ZOG). And you, pseudo-patriots, welcome this joyfully.
The most miserable and miserable in this situation look Ukrainian nationalists, who for decades shouted about building a "national sovereign state," but it turned out that there are few Ukrainians in power, and no one needs sovereignty. Shavki you, on the chain at Kolomoisky, guarding his "honestly stolen" mine.
Once the Indians for a couple of coins and beads replaced the island of Manhattan. You, who stood on Independence, surpassed these Indians - you sold Ukraine for pies.
And today there is an occupied territory "Ukraine", where brainless Natsik "for cow-bread", as a habit, work as punitive policemen, and "Novorossiya" fighting against invaders, who do not want to obey the American puppet.
If you are a true patriot of Ukraine, the choice of a party to the conflict should not be too difficult for you. If you are a non-moskal zombie, too, because then you just don't think TV does it for you.