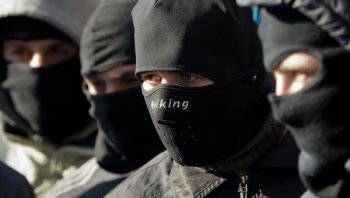 According to RIA
"News"
With reference to the Center for Public Relations of the Federal Security Service of Russia, employees of the department detained members of the Right Sector subversive and terrorist group, who planned to carry out terrorist acts in Yalta, Simferopol and Sevastopol.
"The main purpose of the criminal activity of the group was to commit sabotage and terrorist acts in the cities of Simferopol, Yalta and Sevastopol, and subsequently to destroy a number of vital facilities, railway bridges and power lines," the center said.
"The Investigation Department of the Federal Security Service of Russia is investigating a criminal case against Sentsov OG, Afanasyev S.G., Chirniya A.V., Kolchenko A.A. on 8 May 9, improvised explosive devices near the "Eternal Flame Memorial" and the monument to VI. Lenin in Simferopol, as well as arson of the offices of the public organization "Russian community of Crimea" and the representation of the party "United Russia" in Simferopol 2014 and 14 on April 18, respectively, "the report says.
The Office noted that during the searches in the places of residence of the participants in the criminal group, a firearm was found and seized
weapon
, explosives, ammunition, incendiary mixture in canisters, construction helmets, gas masks, respirators, paint cylinders, as well as nationalistic paraphernalia.
The suspects began to give confessions about the participation of Right Sector activists in organizing terrorist activities in the Crimea to destabilize the social and political situation and influence the decision to seize the republic from the Russian Federation.