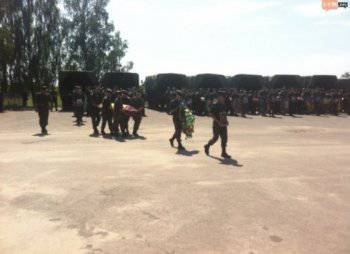 According to the information agency
"Vesti"
, the commander of the Ukrainian volunteer battalion "Donbass" Semyon Semenchenko announced the recruitment of a new battalion of special forces of the National Guard, stressing that "officers and sergeants are particularly needed."
"For those who do not understand what is happening. War breaks out. I repeat once more - until we re-create an army, Interior Ministry, special services, until all the people rise - THEY will take everything we give them, "Semenchenko said on his Facebook page.
According to him, "the main requirement is readiness to die for the Motherland if necessary, the rest is secondary."
The special battalion is formed in the village of New Petrovtsy near Kiev.
Meanwhile, the
"Russian Spring"
notes that in the ranks of the third battalion of the National Guard is ripening among the fighters.
"The shot third battalion of our 51 OMBR was relocated in Nikolaev to continue unfinished exercises. Although yesterday - the day before yesterday, the soldiers were informed that they were being redeployed home to the Rivne training ground from where they were sent. However, the guys were on the other end of Ukraine. Thus, having lost confidence in the generals, and in the light of recent events near Volnovakha and in Rovno during the requiem, the situation of betrayal of the generals towards the brigade commander Yatskivu, the soldiers began a frank rebellion!
On May 28, representatives of the regional military registration and enlistment office reported that the fighters of the battalion closed in the car, where they "drink alcohol and refuse to carry out orders from the leadership."