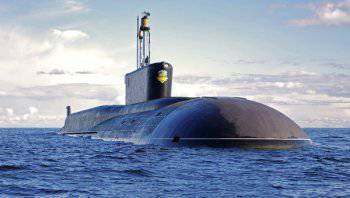 According to RIA
"News"
, referring to a high-ranking representative of the military-industrial complex, the fifth strategic nuclear submarine of the Borey class Prince Oleg and the fourth multi-purpose nuclear submarine of the Yasen class will be laid on July at the berths of the Sevmash plant in Severodvinsk.
At present, the Navy has received two Borei-class submarines - the Alexander Nevsky and the Yuri Dolgoruky. Until the end of 2014, a third submarine, the "Vladimir Monomakh", will be received. In addition, Sevmash is building the fourth - Prince Vladimir.
"On the eve of this year's celebrated in Russia for the Navy (July 27), an official groundbreaking ceremony for the fifth Borea, Prince Oleg, will be held at the Sevmash plant on July 19," the VPK representative said, adding that the fourth day would be laid NPS class "Ash".
60 submarines are currently in service with the Navy: 10 strategic nuclear, more than 30 multi-purpose nuclear, the rest - diesel and special-purpose.
The basis of the group of naval strategic nuclear forces of the Russian Federation are the submarines of the 667 BDR and 667 BDRM projects, which are in service with the Pacific and Northern fleets.
Borey-class submarines will be replaced by the world's largest nuclear submarine missile carriers of the 941 Shark project.
The displacement of the head submarine of the Borey class of the 955 "Yuri Dolgoruky" project is 14700 / 24000 tons. Its dimensions are 170x13,5x9 meters. The maximum depth of the submarine submersion is 450 meters. Speed ​​- 15 / 29 nodes. The crew - 107 people. The submarine carries 16 intercontinental ballistic solid-fuel missiles such as "Bulava-M".