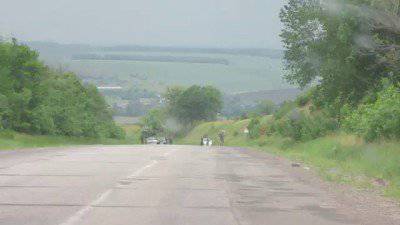 According to the
"Russian Spring"
, unknown Kharkov partisans fired at a column of Ukrainian security forces near the city of Raisin in the Kharkiv region. The attackers overtook the convoy in a car and opened fire on the closing KAMAZ, killing one soldier and injuring three.
After the attack, the group disappeared in Zelenka. It is worth noting that in Izum near Kharkov is one of the central bases of the Ukrainian security forces, conducting a special operation in the east of the country.
At the moment, the road is blocked by the Ukrainian military. The investigative team is working at the scene of the shelling.
Additionally,
novorus.info
reports that in the area of ​​the military unit in the city of Aleksandrovsk, Lugansk region, the battle between the Ukrainian security forces and the militia continues. Accurate data on the dead and injured there. It is noted that an explosion occurred on the territory of the unit.
According to Ukrainian media reports, the military unit was attacked near 120 by well-equipped militia, opposed by the Ukrainian National Guard soldiers around 40. The attacking militias are armed with machine guns, machine guns and grenade launchers.