Speech and Answer by Vitaly Churkin, Permanent Representative of Russia to the UN, at a public meeting of the UN Security Council on the situation in Ukraine, New York, May 28, 2014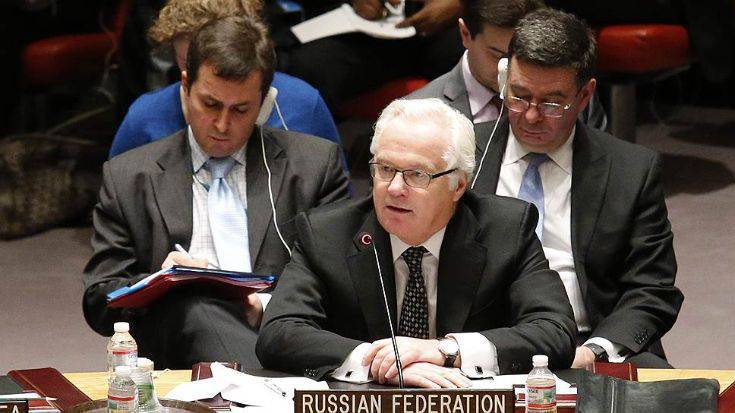 Mr Chairman
The May past 25 election is a step in the right direction. As stated by President of Russia V.Putin even before they were held, "we will respect the choice of the Ukrainian people with respect." However, we would caution against the euphoria that swept our Western colleagues. After all, elections are not a panacea. In assessing both the elections themselves and their possible consequences, one cannot ignore the events that preceded them and the conditions in which they were held.
We must not forget the excesses that were carried out by the opponents of the lawfully elected president, rushed to power, and the coup d'état, which was carried out with outside support and relied on national-radical forces. We must not forget the tragedy of Odessa 2 May and Mariupol 9 May. It is impossible not to hear shell explosions in the South-East, where the punitive operation continues even now.
It must be admitted that the elections were not completely free and democratic. The strongest pressure was exerted on a number of candidates, including and the threat of physical violence, in connection with which some of them were forced to withdraw from the election race. Elections were held under severe restrictions on the activities of the media. Consolidation of the population was largely achieved through defamation and terrorization of entire regions of the country and unbridled anti-Russian propaganda.
However, today we cannot afford to simply discuss electoral processes in a single country. The Security Council has a completely different power - it has the primary responsibility for maintaining international peace and security. And when war rages on parts of Ukraine's territory, the task of those gathered in this room is to find ways to put an end to violence and translate the situation into a peaceful, negotiating field involving all Ukrainian parties. For Russia, this task is of particular importance given the fact that hostilities are taking place in close proximity to our borders.
Members of the Security Council should urge Kiev to finally realize the need to take into account the interests of all citizens of the country, immediately stop the military operation in the South-East - this is what its residents are waiting for, this is required of Kiev in accordance with its obligations under the Geneva Statement and the OSCE Road Map.
This would allow a transition to a genuine national dialogue, to an agreement on a generally acceptable constitutional reform. Genuine dialogue, rather than covering roundtables for the punitive operation, conducted without the participation of representatives of the South-East protest movement.
We note that after the elections, a "memorandum of peace and accord", adopted recently by the Verkhovna Rada, was somehow forgotten recently with great pomp.
Instead of seeking consent with their own citizens, offensive labels are hung on them. They are trying to blame Russia for all the problems that are present. Calls are made to end the punitive operation as soon as possible by intensifying it, people are being driven into the army and the so-called national guard, they are cracking down on those who do not want to shoot their people, are being used more and more indiscriminately
aviation
,
Tanks
, armored personnel carriers, mortars. Civilian targets, including schools, kindergartens and hospitals, are subjected to chaotic aerial and shelling. Despite the appeals of the leaders of the besieged cities, civilians are not allowed to leave the war zones, humanitarian security corridors are not created, the Ukrainian authorities have not taken any actions to evacuate children and facilitate the reunion of separated families. The provisions of the 1989 UN Convention on the Rights of the Child are violated, as well as the basic guarantees provided for in part 3 of Article 1 of Additional Protocol No. 2 to the Geneva Conventions.
We note with bitterness that some members of the Council continue to fully justify the use of force by the Kiev authorities. Today, one colleague even described them as "admirable for his restraint." I feel like saying: fear God, gentlemen!
Mr Chairman
There are numerous media testimonies and videos about the use of Ukrainian helicopters with UN symbolism by the Ukrainian Air Force. The last case of this kind was recorded as recently as May 26 in the sky over the Luhansk region. We urge the UN Secretariat not to be a passive observer of such a gross violation of the UN rules, to sort out the issue and take effective measures to stop such discrediting UN practices. A simple denial of these facts by the Kiev authorities is not enough.
The OSCE's "road map" suggests the investigation of all cases of mass death. But in this direction progress is zero. Investigation of the events of 18-20 February on "Maidan", including the resonant "snipers case", is being rolled up We have not heard our urgent calls for an international investigation of the tragic events of 2 May in Odessa, where, as is known, unidentified deadly chemicals were used, as well as May 9 in Mariupol. The Ukrainian side is moving away from serious interaction with international structures on these issues.
Members of the media are subjected to harassment and threats to life, which the Ukrainian authorities do not allow to fulfill their professional duty and objectively cover the lawlessness that prevails in Ukraine. Today, everyone knows the ugly incident with the detention of journalists of the Russian TV channel Life News and their ill-treatment in Ukrainian torture chambers. Countless cases of prohibiting journalists from entering the Ukrainian territory or their expulsion under false pretenses. We express our condolences to the families of an Italian journalist and a Russian citizen who accompanied him, who died as a result of a mortar attack on Ukrainian security forces.
We are deeply concerned about the incidents with two groups of OSCE monitors. One of them was a Russian citizen. As part of our capabilities, we are taking measures to find and release observers who have not yet been released.
At the same time, attention should be paid to the fact that the main responsibility for the security of observers is borne by the host country mission of Ukraine. However, Kiev has still not completed internal procedures for ratifying the Memorandum of Understanding with the OSCE, which guarantees the integrity of the international mission staff. The uncertainty of the status of OSCE observers who have been working in Ukraine for more than two months now poses a direct threat to their security.
Mr Chairman
In conclusion. We sincerely hope that the presidential elections that took place on 25 in May will still be the beginning of a new, more constructive period in the internal political life of the Ukrainian state. But for this to happen, they must be backed up with concrete deeds to achieve broad national consensus. Ukrainian politicians have repeatedly cruelly deceived the expectations of their people. We hope that this will not happen in the current extremely crucial period for the country.
***
I don't know how you are going to dance (to the proposal of Ukraine's permanent representative to the UN, Yu.Sergeev, to "return" Crimea and "dance" from this), but our negotiations will be conducted, it seems, on the broad agenda of our relations. They will not be dictated by Kiev point by point. Indeed, our countries have a great prospect of mutual relations. Let's try to develop them constructively and let's try as soon as possible to get out of this most difficult period of our relations, the most difficult period
stories
Of Ukraine. As you know, Russia didn't start what happened in your country, but Russia continues to be ready to help you get out of this business if you make the right decisions. You now have a very interesting and good opportunity: you have chosen a president who will soon take office. He must make the right decisions, and not take steps that will only further drive into a dead end the situation that exists in your country.
Of course, I will not respond to this set of some facts, or pseudo-facts, which were given by my Ukrainian colleague. I just want to state that for the umpteenth time the representative of Ukraine is speaking without noticing his people. He draws all claims to Russia, and the situation that now exists in the east of Ukraine, after all, it matured at least after the coup that took place in Kiev on February 22. Everyone knows this perfectly well, and our Ukrainian colleagues also know it, but they prefer not to notice it, because they do not know what to say to the Ukrainian people. Now again about the unitary Ukraine began to repeat theses. We expressed our concerns in our statement, I will not repeat them. But the accusations against Russia alone cannot solve the problem with your people.
I liked the fact that at the very end of your remarks you nevertheless gave some objective assessment of what is happening in the east of Ukraine, speaking of the depressiveness of these regions. This is what we should talk about. But you must admit that artillery strikes or bombardments do not solve the problem of depression. And you will agree (I do not know whether it showed Ukrainian television or not), when the 11 people of May came to a referendum in Donetsk and Lugansk, they were not two and a half people. Still, this is a region in which 7 has millions of inhabitants, and absolutely nothing has been done to establish a positive dialogue with them. Your attention to these regions was attracted by unusual events, but I would like this attention to result in some constructive actions, and not in what we have been seeing lately. Stop this military operation, and then we will help you to establish a dialogue. We talked about this all the time. Russia arrived in Geneva, made a document, and what did we see from the Ukrainian authorities? We saw the punitive operation, and not the implementation of the Geneva Document at all. So in terms of dialogue - we have always been ready to help you establish it and are now ready. Let's hope that this military operation will be stopped as soon as possible. While it is going, how can we help you establish some kind of dialogue with the eastern regions? We, you know, very much binds. Ukrainians in Russia 3 million. If someone has a Russian passport and even a Moscow residence permit, this does not mean at all that his relatives '30 person does not live in Ukraine, etc. I'm not saying that it is very difficult to figure out who is Ukrainian, who is Russian (half Russian, half Ukrainian). You know all this very well.
But let's try to finish all the same on some kind of constructive note. You agreed that there (in the South-East) is really a difficult socio-economic situation. About Crimea, you also mentioned. If you care so much about the Crimea, why did you take and shut off the water supply? And so, after 25 years of being a part of independent Ukraine, economically, things are bad there, and you still cut off the supply of water. Since you acknowledge that the social and economic situation is bad in the eastern regions, let's try to solve this problem together, let's cooperate. You remember what serious offers we made all the time and even at the very last moment before the coup d'état that you had on February 22. You shrugged it all off. Now say: let's close the border with Russia, we will leave the CIS, etc. Probably you can do it. There will be no free trade then with us. But this is a topic of our bilateral relations or regional cooperation. So far, what we see is a military operation near the borders of Russia, and forcing rhetoric and politics against Russia. This, of course, is not constructive. But I hope you carefully read the statements that our management makes; these are quite constructive statements. I hope we listened attentively to our statement today, which, along with critical remarks and "debriefing", contains a constructive charge. I would like us to turn this page as quickly as possible, but much depends on you. The first thing to do is to stop the military insanity that is now happening in the east of the country.
Dear colleagues, listening to your speeches was hard. The representative of Lithuania, for example, mentions that they killed an Italian journalist, but does not say who killed him. Even the distinguished representative of Luxembourg, who, as you know, says a lot about humanitarian things, said little about this. I remember we had a meeting in the Crimea when the Ukrainian military was killed there. Some members of the Council thought that he was killed by a Russian bullet, and immediately expressed condolences (later it turned out that a sniper provocateur shot him). And here, in the east of the country, dozens of people are dying, including civilians, and some members of the Council say that the Ukrainian authorities are showing some extraordinary restraint. What are we going for? If we are going to have the Security Council fulfill its political function, let's see how to end the violence as soon as possible. One more useful thing was said by the Ukrainian colleague, - that he welcomes the mediation efforts of the Secretary General. Perhaps the Secretary-General will join in order to stop the violence in the east of Ukraine, since the representative of Ukraine welcomes the role of the Secretary-General. Let's really do something to stop it.
Thank you, Mr. Chairman.