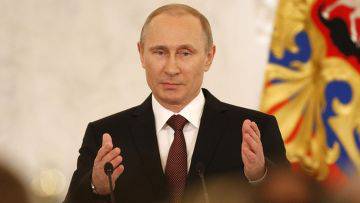 The author of the article, American journalist Edward Lucas, writes about what the Western Europe ignored the anxieties and problems of Eastern Europe. In the current situation, according to Lucas, many states have become disillusioned with NATO and are looking for new ways of self-organization to counter Russian aggression.
Eastern Europe is not a geographic region. This is a collection of worries and anxieties. During the Cold War, these were the enslaved countries of the Soviet empire. Some of them despised the label "Eastern" (the Czechoslovak capital Prague is located hundreds of kilometers west of such "western" capitals as Helsinki, Vienna and Athens). Some felt deceived after the West at Yalta agreed to give back to Eastern Europe and did nothing to prevent the invasion of Soviet troops in Hungary and Czechoslovakia.
When the Berlin Wall fell, the alarms changed. How quickly can the "new Europe" integrate into the "old Europe"? Will democracy take root there, will capitalism work in full force? Will the former countries of the Soviet bloc ever catch up with the more fortunate half of the continent?
After the financial crisis, these anxieties and fear of being left to the mercy of fate somewhat subsided. First, it became clear that the "transitional economies" from the "east" suffered the storm fairly well. The largest of them - Poland - was the only EU country where there was no recession at all. Secondly, it became clear that the most serious problems threaten other countries: Ireland, Spain, Portugal, Italy, Greece and Cyprus.
But now there are new alarms. This is a frank fear due to the new feeling of betrayal of the West, caused by the Russian seizure of land in Ukraine and the weaknesses of the West that these takeovers have demonstrated. The old conviction of NATO and EU solidarity in the eyes of those countries that were most at risk was put to the most serious test. Someone secretly thinks about new relationships on regional security issues and on agreements to deter the Russian threat. The Nordefco Scandinavian defense cooperation organization, which includes non-NATO members Sweden and Finland, is gaining weight. It is closely watched by the Baltic countries and Poland, and this organization enjoys the support of America and Britain. Russia, on the contrary, looks at it with great discontent. In a recent commentary published by the official Kremlin news agency RIA
News
", States that NATO's ties with Sweden and Finland are part of a carefully planned" military blockade of all borders in western Russia. "
New regional arrangements are perceived ambiguously within NATO, because they are a hint of the shortcomings of the existing system. Turkey sharply objects to any cooperation of the North Atlantic Alliance with countries not entering it, fearing that this will create a precedent for interaction between NATO and Israel. This makes it difficult to carry out such experiments as attempts to attract combat aircraft from Sweden and Finland to patrol the airspace of Iceland, this defenseless member of NATO. Any new agreements and events can best be presented as a supplement to NATO, but the countries involved in them deeply understand that they can be prepared for the role of the application, and in the worst case - a replacement.
The countries of this region, located between the Baltic and Black Seas, have never been optimistic about Russia. Even in Yeltsin's 1990s, when the Kremlin was seemingly a friend and partner of the United States and western Europe, these countries were very worried. They were worried that Russia was using its pipelines to create a patronage system and exert pressure. They noted subtle, and sometimes not very subtle tricks of Russian diplomacy. They noticed how many Russian spies are everywhere, who are active and very effective.
Western countries generally tended to look down on the east and ignore their concerns. Russia does not represent the threat represented by the Soviet Union. So they said in Brussels, London, Paris, Berlin and Washington. It was stupid to pretend that everything is different. The West believed that Eastern Europeans, and especially Estonians, Latvians, Lithuanians, Poles and Czechs, were in pain from their historical experience and were prone to alarmism.
This attitude was preserved in the Putin era. The territorial defense of Europe has become a question, the discussion of which was banned. Moreover, his discussion could put an end to his career. The generally accepted view that Russia does not represent and will not pose any danger has crystallized. It was better for any representative of the bureaucracy, especially from the sphere of foreign policy, security, intelligence and the army, to keep his mouth shut if he thought otherwise. Even when Russia began to turn into an increasingly autonomous and hostile country, the West persisted with its policy. When Vladimir Putin took an openly confrontational position, NATO and the EU continued to insist that everything was fine, and the answer to the Russian growl and mockery should be dialogue and integration, and not confrontation and intimidation.
American policy makers did not notice that the planned missile defense targets in Poland and the Czech Republic against the perceived Iranian threat are extremely important as a symbol of the continued US loyalty to the region. When the Obama administration canceled these plans, making it awkwardly and suddenly on the anniversary of the Soviet invasion of Poland in 1939, it did not seem to understand that the reset of relations with Russia must be tied to a large dose of reassuring reassurance about the US . And since then, she did not understand.
Ignoring Eastern Europe was a mistake not only in a narrow tactical sense (if the allies are treated unceremoniously, they are unlikely to want to shed blood for you and bear costs for you in the future). It was also a mistake because America could learn something from them. Now, Western politicians are reluctant to admit the fact that the panicked Eastern Europeans, who know Russians better than others, have been absolutely right about them all this time. Russia has sharply increased its military spending, which in ten years should almost double in real terms. The Russian economy, despite its corruption, bottlenecks and a weak base, limited by raw materials, has shown that it is surprisingly stable and durable. Russia buys allies and influence in the West, and also promotes the development of interdependence, due to which it becomes difficult to impose serious sanctions against it.
It became a headache for the West. And for Eastern Europeans, this has become a nightmare - after all, Russia is a close neighbor for them and, as they think, a threat to their existence. The first in these ranks are the Poles and Estonians - a sort of new super-hawks in Europe. They are one of the few NATO member countries that spend two percent of their GDP on their defense, as required by the rules of the alliance. They have a serious military potential: Poland has the largest army in the region, and Estonia has the most advanced capabilities in the field of cyber security and intelligence.
They have the darkest analytical assessments regarding the intentions and plans of the Putin regime, which are clearly formulated by Estonian President Toomas Hendrik Ilves and Polish Foreign Minister Radoslaw Sikorski. Repression and aggression create a vicious circle. Putin distracts public opinion from the failures and failures of his regime, from his inability to provide people with modern state services, decent infrastructure and steady growth, pursuing an adventurous policy abroad. He is driven by a deep-rooted sense of injustice, both from the collapse of the Soviet Union and from the behavior of the West after that. He feels weaknesses within the EU and NATO, and understands that they can be exploited at minimal cost to themselves.
To encroach on the territorial integrity of Ukraine was unexpectedly easy and simple. The West has come to terms with the annexation of Crimea, despite the fact that these actions are a flagrant violation of international law and international human rights standards. Religious freedoms, rights of the Crimean Tatars and other allegedly sacred principles of the European security system after 1991, were torn to shreds. In the reaction of the West there were many beautiful gestures, but few actions on the merits. The Kremlin learned a lesson that the West is not ready to bear serious economic losses, say, from canceling defense orders from Russia (France is building two warships for it), or because Russian companies are deprived of access to international capital markets in London and New York.
It also became a frightening lesson for other countries, along with Poland and Estonia. Latvians and Lithuanians have much in common
historical
memories of annexation, deportation and repression. However, their authorities were much weaker than Tallinn and Warsaw. Latvia and Lithuania spend on defense only one percent of GDP. Their economy, like politics, is weaker than Estonian. The media in both countries are under intense Russian pressure. Latvian non-citizens, the 400 Soviet-era migrants who remained in this country after the collapse of the Soviet Union, are indifferent at best to their new home, and at worst, discontent and annoyance. This gives the Kremlin a ton of opportunities for waging an information war and carrying out provocations. (There are far fewer non-citizens in Estonia).
In Lithuania, there is another problem: a disgruntled and alien Polish minority that has entered into an alliance with a small pro-Kremlin-minded Russian population. The authors of nationalist rhetoric in Lithuania treat local Poles as impolite Lithuanians, who need, even by force, to return national traditions and culture. Naturally, many Poles do not like it very much.
An additional vulnerability for Poland and Lithuania is created by the Kaliningrad enclave - an exclusively militarized region of Russia (part of the former East Prussia). Military strategists are worried that a small 100-kilometer Polish-Lithuanian border can easily be cut as a result of a joint operation from the territory of the Kaliningrad Region and Belarus (it is in close military alliance with Russia). In this case, the Baltic countries will be cut off from their NATO allies. Even worse, it can be costly for Poland. The current NATO plans provide that Poland in the event of a crisis will strengthen and support the Baltic states, and Poland will be strengthened and supported by other NATO countries. Now Poland still believes that such help will come.
If you move further south, the picture will become even darker. The leaders of the Czech Republic, Slovakia and Hungary simply do not share the anxiety of their Polish and Baltic colleagues. They have no desire to increase military spending (in all three countries, they are equal to or less than one percent of GDP). They do not want to bear the economic burden of sanctions (to which Poland and the Baltic countries fully agree). In Russia, they see mostly favorable business opportunities. Mysterious commercial-political alliances with the involvement of Russia have become an integral and very disturbing feature of life in the Czech Republic. And Hungary is buying a new nuclear power plant in Russia.
Together with Austria and Bulgaria, Hungary also stands for the construction of a gas pipeline from Russia called the South Stream. As a result, they will become less dependent on unreliable gas transit from the territory of Ukraine. However, this will not help European diversification and reduce the overall dependence of the continent on Russian energy supplies. The European Commission sharply warned Bulgaria that this pipeline, which Gazprom will own and operate, is a violation of European rules. Bulgaria no less sharply replied that it did not agree with this.
The main battlefield for European security is not in Ukraine. The problem lies in the EU's ability to set rules that Gazprom doesn't like, and in NATO's ability to protect its weakest members. So far, President Putin believes that he is capable of exerting sufficient political pressure combined with intimidation, bluffing, various tricks and incitement of military hysteria to weaken both the EU and NATO. The new front-line states of Europe will be the first to suffer losses if it turns out to be right. And the options and opportunities they have alarmingly little.